By Priam Nepomuceno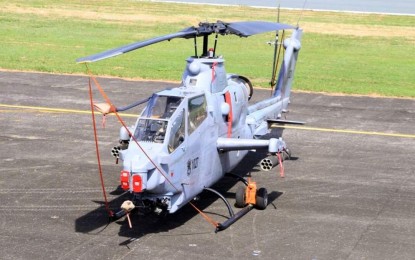 (Photo courtesy of 15th Strike Wing Facebook page)
MANILA (Philippines News Agency) – One of the two Bell AH-1S 'Cobra' attack helicopters of the Philippine Air Force (PAF) has arrived at 15th Strike Wing headquarters at the Major Danilo Atienza Air Base (MDAAB) in Sangley Point, Cavite City on Thursday.
15th Strike Wing commander, Brig. Gen. Aristotle Gonzales and other ranking officers of the unit welcomed the aircraft and its crew.
"The AH-1S 'Cobra' piloted by Major Reese James A. Obeso, PAF, Squadron Commander, 20th Attack Squadron, and Capt. Wilmore Kristus A. Tanamor took off from Clark Air Base and performed low passes before making their first touchdown at MDAAB. After which, the aircraft was rendered the traditional water cannon salute and was blessed by Father Salcedo Galvan. It was then followed by the ceremonial champagne pouring to mark both the joy and sanctity of the occasion," the 15th Strike Wing said in a Facebook post on Friday.
In his message, Gonzalez said the arrival of the aircraft is a first for the 15th Strike Wing as they formally welcomed a "dedicated attack helicopter".
He also thanked all those who worked hard to fully operationalize and hasten the homecoming of the helicopter.
"This platform will complement the MD-520MG of the 20th Attack Squadron and hopefully, be successfully employed and deliver support to other AFP (Armed Forces of the Philippines) units," Gonzalez said.
The two Bell AH-1S 'Cobra' attack helicopters were donated by the Jordanian government in 2018.
The Bell AH-1 'Cobra' is a two-blade, single-engine attack helicopter manufactured by Bell Helicopter.
It was developed using the engine, transmission, and rotor system of the Bell UH-1 Iroquois. A member of the prolific Huey family, the AH-1 is also referred to as the 'Huey Cobra' or 'Snake'.
In September 2018, the Department of National Defense and the Jordan Armed Forces-Arab Army signed a memorandum of understanding on defense cooperation. (PNA)