LETTERS FROM DAVAO
By Jun Ledesma
Is Parlade someone's marionette?
ANTONIO Parlade, Jr. filed a Certificate of Candidacy for president and came out berserk accusing Sen. Bong Go as "kasama siya sa problema ng bayan" but ended saying "I will not explain". Maybe pressed by the media to elucidate on his accusation he claimed that Bong Go, a long-time confidant and executive assistant to Pres. Rodrigo Duterte, had been influencing the Chief Executive on major decisions.
Parlade obviously is ignorant of who Bong Go is in the life, private and political, of Duterte. Bong, fresh from college, was asked by Duterte to join him in his first term as mayor of Davao City as a special assistant. Bong is a nephew of an intimate friend of Digong who was murdered by the New Peoples Army liquidation squad at the time when the CPP-NPA was practically in control of Davao.
We, community journalists, had always had the time to interview the then Mayor. He was a good copy so to speak. On every occasion, there is always Bong Go who would listen from a comfortable distance and will only come close whenever the Mayor would want to ascertain some facts and figures. Always, Bong has a couple of folders that come in handy whenever his boss needed some data.
Yes, Bong Go is Duterte's data bank. In a time when mobile phones became the principal mode of communications Bong would have three. Since his boss never graduated from talk-and-text he too became his answering service.
Since Duterte stepped into the political arena in 1988 he never went back to lawyering or as a state prosecutor. It was a mix of tenure, first as appointed vice mayor, to being mayor then congressman, and ultimately as President. But his passion has always been with the local government as an executive for he can do things fast. He never kept his revulsion against the penchant of politicians to "talk so much and do so little".
Bong Go absorbs lessons in governance derived from his long association with Duterte. Inday Sara early on was honed by his father to carry on with the brand of leadership that her father learned from the venerable Vicente Duterte who was governor of undivided Davao and whose unblemished and sterling political career was a hard feat to follow.
Inday Sara has proven her mettle in dealing with various challenges confronting the City of Davao. Unlike other aspirants, she has seen the many faces of terror and dealt with them with courage and aplomb.
Bong Go who is now Senator, remains to be the President's action man. He may not have the tongue of his peers like Drilon and Gordon but he authored laws that endeared him to the common man. For Parlade to have the gall to think that Bong Go is a problem and influences the decision processes of the President only suggests that he is either ignorant or somebody's one-man wrecking crew.
About the Columnist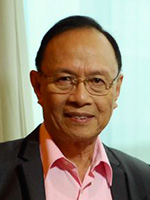 Mr. Jun Ledesma is a community journalist who writes from Davao City and comments from the perspective of a Mindanaoan.