By Ivan Stewart Saldajeno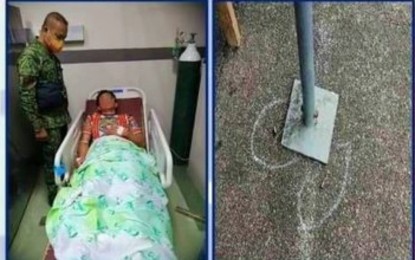 SAD AND TRAGIC. A police officer watches over one of two students hurt during a shooting incident that transpired inside the compound of the Mindanao State University in Marawi City on Dec. 2, 2021. The Philippine Sports Commission condemned "in the strongest possible terms" what it described as sad and tragic incident in the middle of a youth sports event. (Photo courtesy of Marawi CPO)
MANILA – The Philippine Sports Commission (PSC) has expressed its dismay over a shooting incident that took place in the middle of a youth sports event in Marawi on Dec. 2.
While the motive is still unknown at the moment, a group of men ganged up on 21-year-old Mindanao State University student Aripodin Mamacuna at the school's grandstand and eventually fired at some people who tried to help the student, hampering the sports event.
A cop who was off-duty that time helped save the day after injuring one of the people who attacked Mamacuna even as the Marawi police later arrested Macaraya Aramama, Banji Saripada, and Karim Saripada.
"The shooting incident in a sports event awarding ceremony in the Mindanao State University last December 2 was sad and tragic. It is something that we at the Philippine Sports Commission condemn, in the strongest possible terms," the PSC said in a statement on Monday.
The agency added, "PSC Chairman William Ramirez will coordinate with the council of elders in Marawi to avoid this type of incident from happening again, considering Marawi is one of the proposed areas for sports development."
Marawi is still in the middle of a massive rebuild following a grueling war between terrorist groups and the military that took place in 2017 and is among the cities within the primary focus of the PSC's Sports for Peace program which especially caters to the youngsters of Mindanao.
"Sports events should be a gathering of sportsmen whose love for equality and peace are fostered through physical exercise and movement. We have been advocating Sports for Peace, in our programs and have held countless events in the area of Mindanao, recognizing the positive impact of sports in our quest for peace," the PSC continued.
"We have been advocating Sports for Peace, in our programs and have held countless events in the area of Mindanao, recognizing the positive impact of sports in our quest for peace," it added. (PNA)