By Lade Jean Kabagani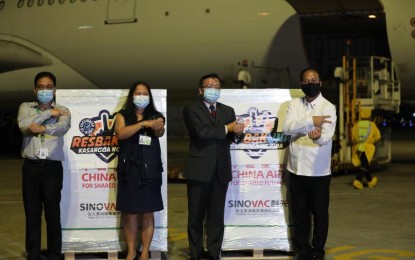 MORE LIFE SAVING DOSES. NTF chief implementer and vaccine czar Secretary Carlito Galvez Jr. along with Chinese Ambassador to the Philippines Huang Xilian, Health Undersecretary Ma. Carolina Vidal-Taiño, and NTF strategic communications on current operations head Assistant Secretary Wilben Mayor welcome the arrival of 2 million doses of Sinovac Covid-19 vaccines donated by the People's Republic of China at the NAIA Terminal 2 in Pasay City on Tuesday (Dec. 14, 2021). Galvez said the latest shipment of Sinovac vaccines will be used for the administration of primary doses and booster vaccination. (PNA photo by Joey Razon)
MANILA – The Philippines on Tuesday received additional 2 million doses of Sinovac vaccines donated by the Chinese government.
National Task Force (NTF) against Covid-19 chief implementer Secretary Carlito Galvez Jr. along with Chinese Ambassador to the Philippines Huang Xilian, Health Undersecretary Ma. Carolina Vidal-Taiño, and NTF strategic communications on current operations head Assistant Secretary Wilben Mayor welcomed the arrival of the Philippine Airlines Flight PR 359 that landed around 6 p.m. at the Ninoy Aquino International Airport Terminal 2 in Pasay City.
Galvez, also the vaccine czar, said the Sinovac's CoronaVac jabs will be distributed in different far-flung communities.
"It will be needed for the first and second doses and also for the boosters," Galvez said in an interview.
Galvez noted that most people are seeking to get Sinovac booster doses under the homologous booster vaccination.
The latest shipment brought the country's total Sinovac vaccines to 54,030,400 doses, with 4 million doses of which, are donations from the Chinese government.
Xilian said the Chinese government is committed to assisting the Philippines to revive its economy through scaling up the Covid-19 vaccination program.
"We will continue to support the Philippines until the final victory against the pandemic," Xilian said.
The Chinese vaccine manufacturer, Sinovac, has become the country's major source of Covid-19 jabs since February.
The Philippines is slated to receive more than 24 million doses of Covid-19 from various vaccine manufacturers until the end of this week. (PNA)