By Kris Crismundo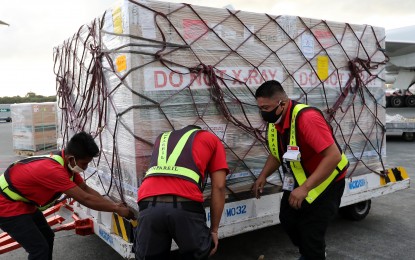 JANSSEN JABS. Airport personnel remove the plastic cover of the boxes containing 3,055,200 doses of Janssen Covid-9 vaccines donated by the Dutch government and 856,800 doses of Moderna Covid-19 vaccine donated by the German government at the NAIA Terminal 3 in Pasay City on Wednesday (Dec. 15, 2021). The Netherlands donated a total of 7,538,400 doses of Janssen jabs, including 4.5 million that arrived on Monday and Tuesday, to the Philippines. (PNA photo by Joey O. Razon)
MANILA – National Task Force Against Covid-19 (NTF) strategic communications on current operations head, Assistant Secretary Wilben Mayor, urged all Filipinos to get protected against the new variant of coronavirus disease 2019 (Covid-19) through getting their primary shots and boosters.
During the arrival of vaccines donated by the governments of the United Kingdom, Germany, and the Netherlands Wednesday, Mayor said the effectiveness of vaccines has been proven as the country now logs lower Covid-19 cases following the surge due to the Delta variant.
"We have seen and proven that vaccination is very important and effective. We have seen in the past months that we had a high number of cases, but because of the vaccination and the Covid-19 vaccination campaign of the government, we have observed the decline in cases," he said in a media interview.
The government recorded its highest single day delivery of vaccines with a total of over 10.4 million doses on Wednesday.
Biggest vaccine delivery came from the donation of the German government at nearly 3.7 million doses of Moderna vaccine.
This is followed by the donation from the Dutch government of over 3.05 million doses of Janssen jabs, nearly 2.25 million doses of AstraZeneca vaccine bought by the private sector, and the 214,500 doses donated by the UK government.
"We encouraged Filipinos, our kababayans, to please be inoculated especially nowadays that this time we report the Omicron variant in the Philippines. It is but necessary that we and everyone should be vaccinated," Mayor added.
He said the national government is accelerating its vaccination efforts especially since new variants have been emerging since the onset of the pandemic last year.
The country-imposed lockdowns in March due to a surge in cases driven by the Alpha variant and another lockdown in August to manage the surge due to Delta variant.
In November, the World Health Organization (WHO) announced a new strain of Covid-19, Omicron, which is believed to be more transmissible than the Delta variant.
OCTA Research Group Fellow Prof. Guido David said data showed that in countries with Omicron variant, the new strain has a reproduction number of 10.
But the reproduction number of the Omicron variant goes down to five when minimum public health protocols are being observed, and further declines to one for areas with vaccination rate of at least 80 percent of its population.
Mayor said the government targets to inoculate a total of 54 million Filipinos this year.
To date, more than 40 million Filipinos have received protection against Covid-19.
He added that this would be possible with the steady supply and delivery of vaccines.
Before the year ends, the country will receive 33 million doses of vaccines with a total delivery for December alone at 67 million doses.
Since February, the country has more than 200 million doses of vaccine for this year. (PNA)