By Ivan Stewart Saldajeno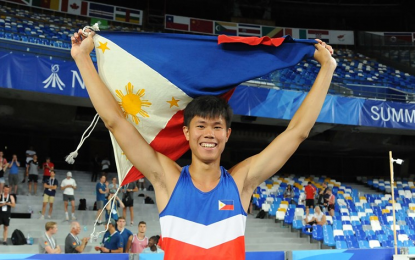 Ernest John "EJ" Obiena (File photo)
MANILA – The Philippine Athletics Track and Field Association (PATAFA) has taken out Asia's pole vault king Ernest John "EJ" Obiena from its pool as their ongoing row took yet another major turn.
PATAFA announced on Tuesday that it is recommending Obiena's removal from the national team following the conclusion of a probe conducted regarding this matter.
Felix Tiukinhoy, member of the PATAFA board of trustees, said the board approved the recommendation on December 29.
He said Obiena would be dropped from the team "effective immediately."
Obiena's coach, Vitaly Petrov, has not been spared too as Tiukinhoy also announced that PATAFA is now cutting its ties with Petrov as a pole vault coach.
Tiukinhoy said complaints are also set to be filed against both Obiena and Petrov.
"A criminal complaint will be filed against EJ Obiena insofar as the funds of PATAFA in the amount of 6,000 euros (about PHP360,000) are concerned, representing the coaching fee for the months of May-August 2018," he said.
For Petrov, Tiukinhoy said, "A complaint will be filed against Mr. Vitaly Petrov before the World Athletics for violation of the Integrity Code of Conduct."
Meanwhile, a week after its chief, Philip Ella Juico, was declared persona non grata by the Philippine Olympic Committee, PATAFA also declared Obiena's adviser James Lafferty persona non grata.
Tiukinhoy also said a copy of the PATAFA investigative committee's report would be sent to the Philippine Sports Commission and the Commission on Audit.
Based on the committee's report, as Tiukinhoy bared, "EJ Obiena misappropriated the amount of 61,026.80 euros (about PHP3,661,608), which was released to him by the PATAFA and PSC as payment for the coaching fee of Mr. Petrov but which was not paid as of August 2021 and Jeanette Obiena (EJ's mother and former PATAFA auditor) misappropriated the amount of PHP624,116.76 she claimed from the PSC under pretext that it is a reimbursement of the coaching fee paid to Mr. Petrov for the months of January-March 2019."
The allegations of Obiena not paying Petrov properly are the root cause of the row between Obiena and PATAFA, which has been ongoing since November. (PNA)