By Ivan Stewart Saldajeno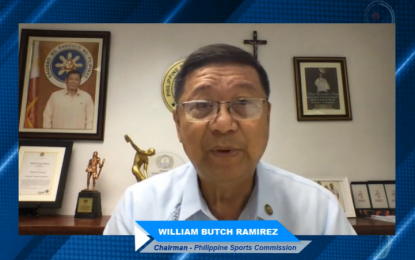 Philippine Sports Commission chairman William "Butch" Ramirez (Screengrab from PSA Forum)
MANILA – Philippine Sports Commission (PSC) chairman Butch Ramirez said he is looking to finally settle the score between the Philippine Athletics Track and Field Association and pole vault star Ernest John "EJ" Obiena before he bids goodbye to his post.
Ramirez said on Tuesday that he does not want to keep the mediation process hanging once his term ends on June 30.
"Our terms end on June 30, 2022. We don't want to leave PSC with these disputes hanging," Ramirez told the Philippine Sportswriters Association as it resumed its weekly online forum.
Both Obiena and PATAFA have agreed to put an end to their row that spilled through the Christmas season through the Ramirez-initiated mediation.
A positive sign moving forward is PATAFA's agreement to clear the PSC in giving funds to Obiena's medical assistance.
This, as Ramirez confirmed that Obiena, the world number six pole vaulter in the world, will undergo knee surgery to repair his meniscus injury.
"Obiena needs help for his medical procedure, which we just approved yesterday of an amount to take care of his surgery. Atty. [Guillermo] Iroy communicated to PATAFA, and on good will, in the spirit for posit forthcoming mediation, they certified it because, without certification, we cannot give in to this incentive," Ramirez said. "We have to thank PATAFA for this action."
He also thanked PATAFA chairman Rufus Rodriguez for assuring him that PATAFA wants to finally bury the hatchet as soon as possible.
"I hope PATAFA will take a lead from Chairman Rufus Rodriguez," Ramirez said.
He assured the public that the PSC will keep on supporting Obiena.
"He must understand that we are helping him beyond jurisdiction and the provisions of the law of the NSAs (national sports associations) because of helping the athletes. After all, the existence of the PSC is through athletes. Naka-sentro kami dyan (We are centered there). That's why it was created this way," Ramirez added. (PNA)