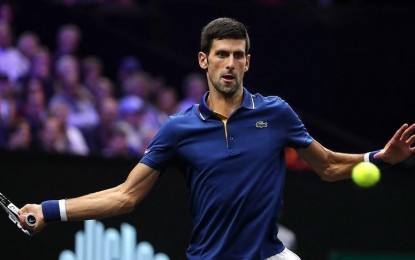 ANKARA (Anadolu/PNA) – Novak Djokovic was included in the Australian Open official draw on Thursday, although it is still uncertain whether the government will cancel his visa for a second time.
World no. 1 was drawn with fellow Miomir Kecmanovic, who is ranked 78th, for his first-round match.
On Jan. 4, Djokovic said he had been granted a medical exemption from being vaccinated for Covid-19, but after his arrival, the Australian Border Force canceled his visa.
After he was sent to an immigration detention hotel in Melbourne, a federal court ordered his release.
Australia mandates all players to be fully vaccinated against Covid-19 to compete in this year's first major tennis tournament.
Djokovic has refused to say whether he is vaccinated for the coronavirus
Australian Open tickets
Meanwhile, Australian Open ticket sales will be limited at 50 percent capacity, the Victoria state government announced on Thursday.
The government added that all tickets purchased to date remain valid, no tickets will be canceled or changed, and there will be no changes to ground pass access.
According to the statement, face masks will be mandatory for all patrons, except when eating or drinking, and the event will align with Victoria's statewide COVIDSafe settings.
It is also stated that ventilation will be improved in indoor areas of Melbourne Park, with HEPA filters to be installed in some spaces after a ventilation assessment is completed for the venue.
The 2022 Australian Open, one of the four Grand Slam tennis tournaments, will be held on January 17-30 at Melbourne Park. (Anadolu)