By Priam Nepomuceno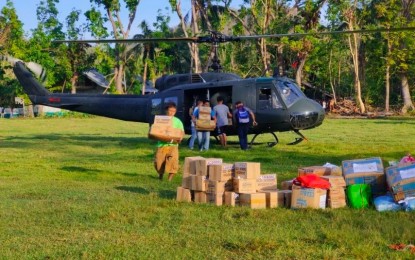 RELIEF OPS. An undated photo shows relief goods being unloaded from a UH-1H helicopter for Typhoon Odette-affected families in an undisclosed area. The Philippine Air Force has put on limited operations its decommissioned UH-1H "Huey" combat utility helicopters to help in the ongoing relief efforts for typhoon victims. (Photo courtesy of PAF)
MANILA – The Philippine Air Force (PAF) has put on limited operations its decommissioned UH-1H "Huey" combat utility helicopters to help in the ongoing relief efforts in the Visayas and Mindanao areas battered by Typhoon Odette last month.
The UH-1Hs were decommissioned following a fatal crash that killed at least six PAF personnel in Bukidnon on Jan. 16, 2021.
"The UH-1H helicopters of the PAF are now being utilized in the humanitarian assistance and disaster response efforts in the aftermath of Typhoon Odette. After extensive maintenance checks and test flights, the UH-1H have been put on limited operation as a necessary step to aid our fellow countrymen by transporting relief goods in the Visayas area," PAF spokesperson Lt. Col. Maynard Mariano said on Saturday night.
He said the Department of National Defense and Armed Forces of the Philippines approved the limited operations of these UH-1Hs for the following missions:
* Humanitarian assistance and disaster response;
* Rapid damage assessment and needs analysis;
* Medical evacuation and transport of Covid-19 Vaccines and medical equipment;
* Training and maintenance flights.
"The UH-1H fleet took off for the first HADR mission on 28 December 2021. PAF personnel and its air assets have been working round-the-clock in providing relief operations to areas affected by Typhoon Odette," Mariano said.
The decommissioned are between six and 10 UH-1H helicopters.
"It is through the sheer determination and ardent desire of our airmen to serve and their obligation to fulfill their duty to the country made these things possible, 'That Others May Live'," he added. (PNA)