By Kris Crismundo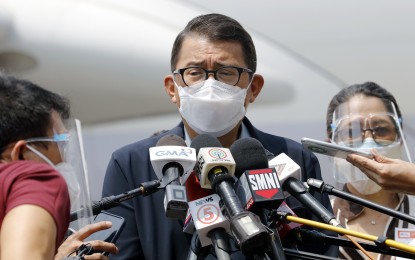 Presidential Adviser for Entrepreneurship Joey Concepcion (File photo)
MANILA – Presidential Adviser for Entrepreneurship Joey Concepcion has recommended to the Inter-Agency Task Force for the Management of Emerging Infectious Disease (IATF) to allow negative antigen test results as a travel requirement for those arriving in the country.
"I thought the idea of antigen test prior to departure within 24 hours is good enough to provide comfort," Concepcion said during the Go Negosyo's Booster to the Max Townhall on Friday.
Although antigen tests are less sensitive than the gold standard reverse transcription-polymerase chain reaction (RT-PCR), these can check if a person infected with the virus is contagious.
Concepcion added that antigen test "may not be as perfect as an RT-PCR" test, but an RT-PCR test taken too early or too late "may also not be effective".
He said a negative antigen test result is now accepted in the United States.
"In our case when we leave America, we need to take an RT-PCR test 48 hours prior to departure. That is a bit of concern because the RT-PCR testing capacity here is at the maximum capacity, so some Filipinos going home may have a problem trying to get an appointment for this RT-PCR test," he added.
The Go Negosyo founder said he also proposed to gradually phase out facility-based quarantine for international arrivals and shift to home-based quarantine instead.
Other countries such as Thailand and Switzerland have started to open up for travelers by removing the required quarantine upon arrival.
This move would help the country in reviving its tourism and airline industries, Concepcion added.
"We are not also suggesting that we implement the 'no quarantine' immediately. What I am proposing to our IATF members is a gradual move towards the removal of quarantine in the Philippines, and moving towards home quarantine rather than facility-based quarantine," he said. "As we see omicron start to subside then we can maybe move towards a gradual phase-out of our quarantine in our country."
For international arrivals, the country requires a traveler to present a negative RT-PCR test result and is still required to undergo a facility-based quarantine to be tested via RT-PCR test on the fifth day.
If the RT-PCR test is negative, an individual can continue to observe oneself for possible Covid-19 symptoms at home. (PNA)