LETTERS FROM DAVAO
By Jun Ledesma
Walden could never be like Sara
WALDEN Bello has carved his name in various issues that range from economy, environment, human rights and politics all anchored on communist ideology. With that credentials he thought he is good enough to be Vice President of the Philippines.
Walden has always been a critic of any administration. Nobody minds him anyway as he is more of a theoretician. Back by impressive educational background that he gets to be invited to speak on many of his ideologies. He must be enamored with communism he became a member of the Communist Party of the Philippines Wikipedia states.
Walden won a seat in Congress as partylist Laban ng Masa Representative. Last October he substituted a labor group candidate for Vice President.
His alliance with the leftist political parties and his hatred for Marcos dictatorship must have triggered his subconscious to badmouth Davao City Mayor Inday Sara Duterte on her proposal to make mandatory military service for Filipinos turning 18 years old. He branded the idea as "a mask off moment for dictatorial-in-waiting.
Piqued by the snide remark of Bello, Inday Sara said her dream is to inspire patriotism among the youth and not to be "ungrateful" citizens like her fellow vice presidential candidate Walden Bello.
"I truly hope that our youth do not grow up to be a Walden Bello — an ungrateful citizen who sleeps peacefully at the comfort of their homes, unable to say a prayer or a silent 'thank you' to the men and women who became martyrs while countering violent extremism, insurgency, and terrorism," Sara said.
I like my Mayor best when she fights for her principles. Walden Bello should have known that what Inday Sara proposes stemmed from her actual experience as an ordinary citizen and leader of Davao City. Walden was most of the time in the US when his party members, the CPP/NPA virtually took control of Davao City in early 1980s. Prior to that bloody regime, the Moro National Liberation Front was waging a separatist war pursued later by the Moro Islamic Liberation Front. When the communists were defeated in a counter-revolution, drugs syndicates" invaded Davao taking advantage of weary law enforcers. Like all Davaowenyos, Sara grew up in these environment.
When Rodrigo Duterte, became Mayor of Davao he confronted the problems with sharpness of a tack and aplomb. The young Sara not yet in her teens witnessed these and saw up close how her father dealt with problems.
Walden never had these in all his life. In fact when he learned about the atrocities of the CPP/NPAs all he did was to resign from CPP but did not sever his ties completely as his political career would show.
So now he gets a mouthful from Mayor Inday..
"If only Walden Bello wasn't so quick to jump the gun, he would know that my vision was not only to push for mandatory military service for the youth," she said. "And an 18 year old is definitely not a child."
She said only the likes of Bello would think of mandatory military service for Filipino citizens "as arming them and telling them to kill – instead of looking at it as something that inspires patriotism in the youth."
"If only he wasn't so quick to react, he would have realized that I also emphasized the need for the youth to be prepared for disasters and become proactive community partners in rescue operations and in aiding victims of calamities,"
"I wanted them to be able to stand on their own, help themselves, help the communities, and help the nation," Inday Sara tells Walden.
The obsession over dictatorship in the Philippines, she added "is as ancient as the belief that the youth have no actual important role in building a nation that is progressive and peaceful."
"If only Mr. Bello did not stop at what he has been so stuck in over the past many years — dictatorship in the Philippines, something that we know is a lie in the present time — he would have a better understanding of what I truly stand for".
Walden could never be like Sara. They live in two different worlds. Walden in the safety of academic campuses and pursuance of an irrelevant ideology while Sara in the real world. As the surveys show Sara is on a straight path to the vice presidency, while Walden is consigned to defeat.
About the Columnist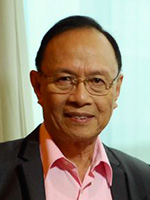 Mr. Jun Ledesma is a community journalist who writes from Davao City and comments from the perspective of a Mindanaoan.