By Joyce Ann L. Rocamora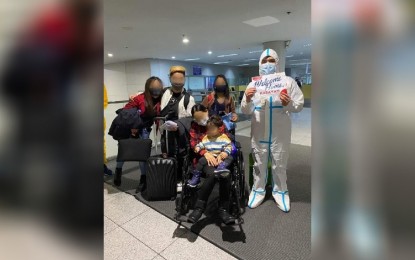 MANILA – Six Filipino nationals from Ukraine arrived here Friday, days after the government announced free repatriation flights for nationals in the crisis-hit Eastern European state.
The six, including a minor, arrived via Turkish Airlines flight 84 at the Ninoy Aquino International Airport Terminal 3.
The repatriation program was launched because of fears that Russia would invade Ukraine as its troops massed along the latter's borders. The Department of Foreign Affairs (DFA) has estimated more than 350 Filipinos living in the European nation.
"The department continues to monitor the situation in Ukraine's borders while the Philippine Embassy in Poland remains in touch with the Filipino community inside Ukraine," it said.
The DFA said the repatriation was made possible through the close coordination among the embassy, the Philippine Honorary Consulate General in Kyiv, and the Philippine Consulate General in Istanbul to make sure that government assistance would be available to the group at all transit points.
Four of the six repatriates boarded international flights from Kyiv while two took their flights from Lviv.
"We are urging all Filipinos in Ukraine to contact the Philippine Embassy in Warsaw and the Philippine Honorary Consulate General in Kyiv if they would like to request for repatriation assistance from Ukraine," Philippine Ambassador to Poland Leah Ruiz said.
Filipinos in Ukraine who need repatriation assistance are advised to contact the Philippine Embassy in Poland through email (warsaw.pe@dfa.gov.ph); emergency mobile no. +48 604-357-396; and office mobile no. +48 694-491-663. (PNA)