By Joyce Ann L. Rocamora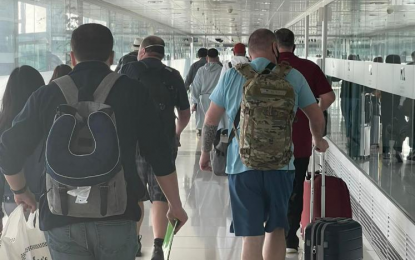 (File photo)
MANILA – The Philippines attracted 47,715 foreign tourists and balikbayans in February 2022 alone, reflecting the international traveler's eagerness to visit Filipino destinations even after almost two years of closure.
The Department of Tourism (DOT) on Thursday said 45 percent of the figures are balikbayans while 55 percent are foreign tourists, the majority of whom are from the United States, followed by Canada, the United Kingdom, South Korea, Australia, Vietnam, and Germany.
"Masayang masaya kami kasi we didn't expect na may talagang dadating because normally ang dating ng mga turista usually 'pag due term months nila or pag-school break ng mga bata (We are elated because we didn't expect that there would be a lot of visitors because tourists normally come during the school break). But from February 10 to February 28 we recorded 47,715 tourists," Tourism Secretary Bernadette Romulo-Puyat said in a virtual presser.
From 5.7 million tourism jobs generated in 2019, Romulo-Puyat said at least 1.1 million workers have been affected since the pandemic struck.
As restrictions slowly ease, she said many hotels are now rehiring their workers while a number of travelers are now starting to trickle into local destinations.
"Marami nga ang mga hotel ay fully booked already (Many hotels are now fully booked already). So, this is a good sign and they are rehiring," she said.
The Philippine Hotel Owners Association (PHOA) said the downgrading of alert levels in Metro Manila and 38 other areas is also a welcome development to the hospitality industry.
"The de-escalation of the National Capital Region to Alert Level 1 coupled with the reopening of our borders to foreign tourists and the removal of facility-based quarantine for fully vaccinated visitors from visa-free countries to the Philippines, will certainly boost recovery efforts for the country's accommodation industry," PHOA president Arthur M. Lopez said in a statement.
Under the more relaxed guidelines for areas under Alert Level 1, hotels can accommodate more guests for staycation, dine-in services, and social events. Guests only have to show proof of full vaccination when entering the hotels.
"We expect higher revenue not only from rooms but also from food and beverage operations and social events. Hopefully, Metro Manila stays under Alert Level 1 so we can sustain the momentum and help the government with its recovery efforts for tourism," Lopez said.
"We also hope that other prime tourism destinations can be placed under a lower alert level so that our member hotels can generate a steadier revenue stream," he added.
Romulo-Puyat, meanwhile, has high hopes to yield stronger programs and partnerships with other tourism ministers and global leaders as the Philippines hosts the World Travel and Tourism Council (WTTC) global tourism summit in April.
"We only want what is best for the sector. This hosting of the WTTC Summit will benefit the country by showcasing what the Philippines can offer to the world. More than the recognitions we received over the past years, our goal is to restore jobs and revenue streams for our tourism workers and stakeholders," she said. (PNA)