By Filane Mikee Cervantes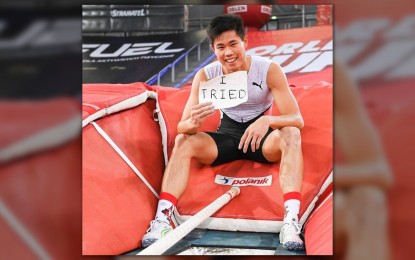 Pole vault Ernest John "EJ" Obiena (Photo from EJ's Facebook page)
MANILA – A party-list lawmaker on Monday called on the Philippine Sports Commission (PSC) to defund the Philippine Athletics Track and Field Association (PATAFA) after its non-endorsement of pole vaulter Ernest John "EJ" Obiena for the World Indoor Championships (WIC) in Serbia.
Puwersa ng Bayaning Atleta (PBA) Party-list Rep. Jericho Nograles said PATAFA's action against Obiena shows that its existence is not for the best interest of Philippine sports, as the athlete's non-inclusion would deny the country a guaranteed medal win in the WIC.
"The PSC should stop funding PATAFA and direct all support to individual athletes. PATAFA has lost all the moral right to represent the Philippines as an NSA (national sports association) because of its action against Obiena. We are just wasting taxpayers' money on PATAFA," Nograles said in a statement.
Nograles also urged other government institutions like the Philippine Amusement and Gaming Corporation and the Philippine Charity Sweepstakes Office to stop giving any support for PATAFA.
"Go straight to the athletes, and stop funding PATAFA," Nograles said.
Nograles said the PSC and the Philippine Olympic Committee (POC) should also make a representation for the Philippines to appeal to the International Association of Athletics Federations (IAAF) and the Asian Athletics Association (AAA) to appeal for Obiena's case.
In his statement on Saturday night, Obiena said the biggest loser of PATAFA's decision not to endorse him for the World Indoor Championship is the Philippines.
"Today the country I love loses," the title of Obiena's statement reads.
He insisted that he is in "prime physical and mental condition" to compete, but without PATAFA's endorsement, he now needs to watch the event from the sidelines.
"The country has not been put first by all. Country comes after personal considerations for some. This is more than unfortunate. The nation pays the price," Obiena continued. "If the country was ever put first, I should be headed to Belgrade now. But I am not."
He turned emotional in the end by saying, "I shed a tear now with a heavy heart, but not just for myself. I shed a tear for my country. We had a chance to show the world our greatness. And we lost it."
Obiena's rift with the PATAFA has reached the Court of Arbitration for Sport after PATAFA president Philip Ella Juico filed a complaint against the Tokyo Olympian and the POC last February 11.
The rift revolves around Obiena's liquidation of his coach Vitaly Petrov's salaries that evolved into the athlete's accusation of harassment by his NSA. (PNA)