By Ivan Stewart Saldajeno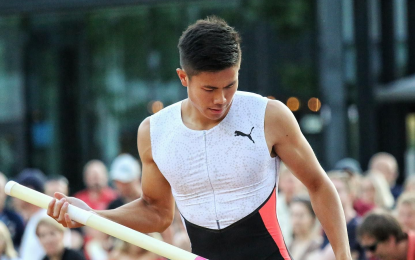 World-ranked Filipino pole vaulter Ernest John "EJ" Obiena (Photo from EJ's FB page)
MANILA – The Philippine Athletics Track and Field Association (PATAFA) and world-ranked pole vaulter Ernest John "EJ" Obiena have finally settled their misunderstandings as Philippine Sports Commission (PSC) chairperson Butch Ramirez succeeded in reconciling the two parties through the mediation process.
In a statement on Wednesday night, PSC said a settlement has been reached in the final session of the mediation process earlier in the day.
"It is with much joy that we announce that both parties have agreed to a settlement and the proceedings ended successfully," the PSC said. "PSC Chairman William Ramirez who served as the sole mediator in the proceedings expressed his happiness that the first-ever sports mediation conducted by the PSC successfully assisted both parties to arrive at a settlement."
As part of the settlement, PATAFA has finally agreed to endorse Obiena for the Southeast Asian Games and the World Outdoor Athletics.
Earlier in the day, the Philippine Olympic Committee (POC) deferred putting its executive board's decision to suspend PATAFA for 90 days during its general assembly (GA) at the Knight Templar Hotel in Tagaytay but warned the national sports association that they will decide on it in next month's GA.
With the settlement, the POC could fully retract the suspension.
"Both parties have also agreed that endorsement for the participation of Mr. Obiena in other competitions will be subject to the usual rules and regulations of the PATAFA, as observed for the participation of all national athletes," the PSC said.
The PSC further revealed that Ramirez, Obiena, and PATAFA president Popoy Juico met privately after the mediation session.
"Mr. Obiena expressed his apologies to PATAFA, its board members, and his teammates, and both have assured each other of forgiveness, to start anew and move on," the PSC bared some details of the private meeting.
The PSC will not divulge any information about the mediation, but according to Ramirez, "Humility really played a big part in this process." (PNA)