By Azer Parrocha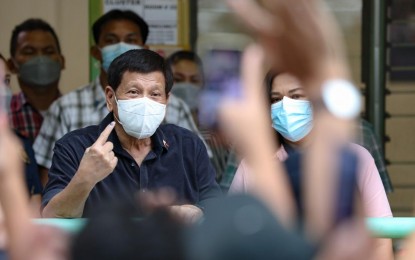 ENDORSEMENT. President Rodrigo Roa Duterte shows the indelible ink on his finger after casting his vote for the 2022 National and Local Elections at the Daniel R. Aguinaldo National High School in Davao City on Monday (May 9, 2022). Political analyst Froilan Calilung said Duterte's decision not to endorse any presidential aspirant turned to the advantage of candidate Ferdinand "Bongbong" Marcos Jr. (Presidential photo by Toto Lozano)
MANILA – The decision of President Rodrigo Duterte not to endorse any presidential aspirant in the national elections turned to former Senator Ferdinand "Bongbong" Marcos Jr.'s advantage, a political analyst said Monday.
Dr. Froilan Calilung, who teaches political science in the University of Sto. Tomas (UST), believes that Duterte's silence over his preferred presidential candidate benefited Marcos because this would free the former senator of being linked to the current administration's shortcomings.
"Yung hindi pag endorso ni Pangulong Duterte maaring ito ay mas nakabuti pa nga kay frontrunner natin BBM dahil nga kung titignan natin, kung iendorso siya ni Pangulong Duterte (President Duterte's decision not to endorse our frontrunner BBM benefited him because if President Duterte did endorse him) he has to answer for the shortcomings and pitfalls of the Duterte administration," he said in an interview over PTV-4.
Calilung said Duterte's not endorsing Marcos also meant that the latter is "not beholden" to continue programs and policies started by the current administration.
"He can start on a clean slate and he could actually forward his platform based on his own merits na hindi naka-angkla kay President (without being anchored on President) Duterte. I think 'yun 'yung mas nakabuti pa sa kanya (I think that is what really benefitted him)," he added.
Calilung said Marcos did not need an endorsement from the President since he was already enjoying a comfortable lead based on surveys.
Favored to win
Currently, Marcos has been leading several presidential surveys, followed by Vice President Leni Robredo and the other candidates vying for the highest post in the country.
Calilung said this trend shows that there is a high chance that Marcos could be elected the country's 17th president.
"From the looks of it, I think it's safe to say right now. Kasi po ang titignan natin dito kung kalamangan. Ang mahalaga po tignan dito yung percentage ng lead. Kung medyo nakalapit si Vice President Robredo at least within 10 margin points, siguro pwede. Pero right now I think nag peak na si Vice President dun sa 25 percent and then after that ang ating frontrunner is also moving forward pa, nag escalate siya to 60, 60 plus (Because we are looking at the percentage of the lead. If Vice President Robredo's numbers are at least within 10 margin points, there is still a chance. But right now, I think the Vice President already peaked at 25 percent and our frontrunner is moving forward, escalating to 60, 60 plus) So I think the margin or the lead is very big at this point," he said.
He noted that several surveys in the past have shown results that were close to actual election outcomes.
Amid criticism that some surveys may not be reliable, Calilung said there is scientific basis behind how they are done.
He said online search tools like Google Trends only show specific keywords, subjects and phrases that have been searched over a specific period of time.
Robredo's supporters have insisted that Google Trends point towards a Robredo victory in contrast to what surveys projected.
"Dito kasi sa survey talagang itatanong kung sino yung iboboto nila doon sa panahon na yun kung sakaling ngayon mangyayari ang election (In a survey, you really have to ask respondents who they are going to vote for if elections were held today)," he said.
Asked if Robredo's massive turnout of volunteer-supporters in rallies could be an indication of people's real choices, he said they still could not be compared to the reliability of surveys.
"Ito pong tinatawag natin na drone shots na to ay hindi naman talaga natin alam kung bakit sila nandun in the first place dahil hindi naman tinatanong kung sila ba ay boboto (With drone shots, we don't really know why there were there in the first place because we did not ask them if they are voting for their candidate)," he said.
He, however, acknowledged that election outcomes are not set in stone.
"As we always say, election day is the penultimate decision day. That's the time wherein we will be able to really see," he added.
Marco's running mate is Duterte's daughter, Davao City Mayor Sara Duterte, who is also the leading vice presidential candidate based on surveys. (PNA)