By Joann Villanueva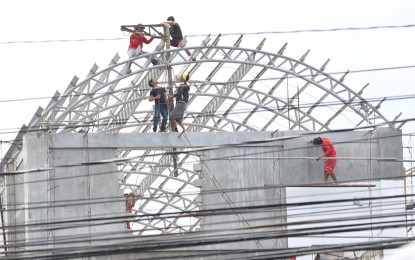 SMOOTH TRANSITION. Fitch Solutions Country Risk and Industry Research expects a smooth transition from the Duterte administration to the next government as unofficial poll count shows former senator Ferdinand Marcos Jr. leading the presidential race. The industry and credit research firm expects the Marcos administration to continue the current government's infrastructure program, among others. (File photo)
MANILA – Fitch Solutions Country Risk and Industry Research sees a smooth transition to the next administration that will likely continue focusing on infrastructure development.
"We expect a smooth transition to the Marcos administration from the outgoing Duterte administration, with little changes in policy direction," the industry and credit research firm said in a report released on Wednesday, citing unofficial vote count results showing former senator Ferdinand Marcos Jr. leading the presidential race.
The firm said "Marcos is likely to continue focusing on infrastructure development on the economic front, while striving to maintain a delicate balancing act between the US and China in terms of foreign policy."
"Going forward, we expect the change in administration to result in only negligible changes to both economic and foreign policy direction," it added.
The report said Marcos has had little indication regarding his government's policy nor the details of his prospective Cabinet.
It also projects that the current administration's "Build, Build, Build" program will likely be continued, citing Marcos' earlier statements.
It cited Marcos' bid to put up an oil price stabilization fund (OPSF) as a long-term solution to address the oil price upticks instead of removing the excise tax on fuel products.
Other commitments of the Marcos camp, which the report compiled from the presidential candidate's website, include supporting the hog-raising sector to address pork price increases, decongesting traffic in Metro Manila through the modernization of ferry transportation system along the Pasig River, promoting of renewable energy to help lower power cost, and to save the country's environment and natural resources.
In terms of foreign policy, the report said Marcos has supported the current administration's stance for bilateral talks with China regarding the disputed islands in the West Philippine Sea and to seek a fishing agreement with the world's second largest economy.
It added "Marcos had previously stated that the Permanent Court of Arbitration's July 2016 ruling in the Philippines' favor against China –which Beijing rejected– was "not effective", and that a bilateral agreement with Beijing is the "only practical option"."
"Nevertheless, we believe that the Marcos administration will likely continue to prioritize the country's economic interests and maintain a delicate balancing act between the US and China," the report said.
With regards to the US, it cited Marcos' statement during a virtual forum last March 16 of keeping the "special relationship" with the world's largest economy since the US "can do many things" to aid the Philippines. (PNA)