LETTERS FROM DAVAO
By Jun Ledesma
Flying out and coming home
WHAT do we have here? VP Leni Robredo has flown to New York City to attend her daughter's graduation. We should not deprive her of that. She too will have the opportunity to be in a community where she won in the overseas elections. She will find comfort there with Loida Lewis as her host. The Northeastern USA gave Leni and Kiko their win. In the rest of America, however, they lost miserably.
On the other hand, presumptive president Bongbong Marcos has hied off to Melbourne, Australia for a breather and to check on his son's enrolment in the local university. Melbourne and Sydney are where overseas Filipinos gave Leni and Kiko a slight edge over BBM and Sara. Less than a dozen "pinklawans" staged a demo in front of the apartment where BBM's family stayed but a large community of Pinoys gave BBM a warm welcome. After all Australian Prime Minister Scott Morison was among the first world leaders that congratulated the presumptive president.
While the victor and the vanquished are off to distant hideaways, Pres. Rodrigo Duterte is packing the last of his denims and slip-on shoes. Knowing his frugal lifestyle, all his personal belongings can be contained in just two pieces of luggage. He is not going elsewhere but to his hometown – Davao City. A black D-Max pick-up will fetch him and take him to his simple home in what used to be a teachers' village.
While Leni would relish NYC's famous bagels, pizzas, and burgers, maybe BBM would partake of Angus beef. On the other hand citizen Digong will have his favorite delight – "inun-unan nga bolinao". That is anchovies stewed in a brew of vinegar, water, ginger, garlic, and other spices and cooked wrapped in banana leaf. Then maybe after lunch or dinner summons the long-missed grandkids Stingray, Sharky, and Stonefish by Inday Sara. If that happens and the VP will be there, the scene would best exemplify "unity".
What a distinction among the famous. President Duterte is not used to living a life of lethargy. If I knew him well, he will still prowl the streets of Davao City on his bike looking for shady characters peddling shabu or disturbing the peace and quiet of the most peaceful and livable place in the Philippines.
About the Columnist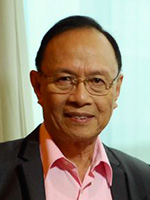 Mr. Jun Ledesma is a community journalist who writes from Davao City and comments from the perspective of a Mindanaoan.