By Azer Parrocha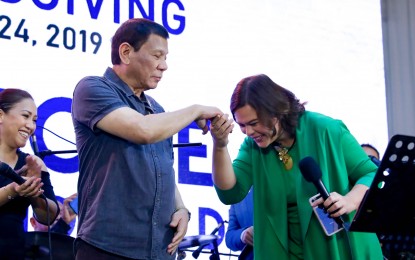 President Rodrigo Roa Duterte and daughter, incoming Vice President Sara Duterte (File photo)
MANILA – Outgoing President Rodrigo R. Duterte on Sunday urged his daughter, Vice President-elect "Inday" Sara Duterte, to ensure the continuation of anti-illegal drugs programs in schools.
This, after Sara announced last month that she has accepted the offer to become Education secretary under the incoming administration of President-elect Ferdinand "Bongbong" Marcos Jr.
"But this time, kung wala na ako, sabihin ko na lang kay Inday (when I am no longer here, I will just tell Inday), 'Take over. Ikaw na ang… Kunin mo 'yang trabahong… (Take over this job)," he said in his speech after witnessing the lowering of the Tunnel Boring Machine (TBM) of Metro Manila Subway Project in Valenzuela City.
Sara earlier said she wants to improve the welfare and quality of education in the country during her six-year term.
She previously expressed her interest to lead the Department of National Defense but eventually gave it up to avoid any possible "intrigue" that could break the team between her and Marcos Jr.
Duterte explained that the youth are among the most vulnerable and the most affected by illegal drug use.
"Biro mo 'yang Department of Education, maraming bata diyan. Do not ever allow contamination diyan sa ano.. (You deal with a lot of kids in the Department of Education. Do not ever allow contamination there). If you have to do it, do it," he said.
He added that he took it upon himself to launch his administration's aggressive crackdown on illegal drugs because "nobody would do it for us."
Duterte warned anew of dangers in the use and sale of illegal narcotics, noting that this will destroy the country and will lead to "dysfunctional" families.
"Ang masakit sa akin isa pa, pagka tinamaan 'yung mga bata (Another thing that pains me is that if children are affected), there will be a family dysfunction and there are plenty. So mag-away 'yan pati mga bata. Wala na (So, they will fight, including the children), bewildered and wandering in the woods of civilization," he added.
Meanwhile, he also appealed to the police and military to sustain the momentum in the government's fight against illegal drugs.
"I would like to appeal to everybody that drugs, especially the military and the police and the Coast Guard who are here, never give up the fight against drugs. Drugs will kill the Philippines," he said.
He also vowed to continue waging his war against drugs as a civilian and protect law enforcement officers facing charges for killing drugs suspects under self-defense.
"As long as it is done in the performance of your duty and you run afoul or may namatay at maingay, ako sabihin ko (someone dies and you will be publicly castigated, I will say) I am the one who will assume the full accountability and all," he said. (PNA)