By Ruth Abbey Gita-Carlos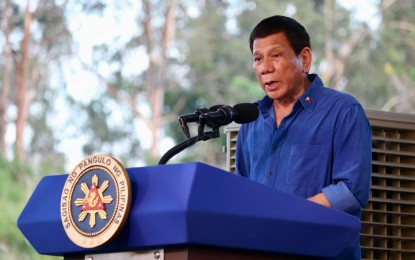 President Rodrigo Duterte at the groundbreaking ceremony of the Philippine Sports Training Center in Bagac, Bataan on Friday (June 17, 2022). (Photo courtesy of PSC)
MANILA – President Rodrigo Duterte on Friday urged anew the incoming administration to support all initiatives that would put an end to the narcotics trade in the country.
Duterte renewed his appeal to sustain the momentum in the government's fight against illegal drugs and for authorities to remain resolute in keeping Filipinos safe from the menace.
"Please support any endeavor that would kill the industry of drugs in this country," Duterte said in his speech during the groundbreaking of the Philippine Sports Training Center in Bagac, Bataan.
"'Yung pulis pati military, huwag niyong bitawan ang momentum. Hawakan ninyo ang droga kasi 'pag hindi, sisirain ang bayan natin (To the police and the military, keep the momentum. Continue the relentless campaign against illegal drugs because they will destroy our country)," he said.
He reassured law enforcement agencies conducting buy-bust operations that he is ready to protect them in the event they face charges for killing resisting drug suspects.
"Do it in the official performance of duty. At (And) if by unfortunate chance, you find yourself in a corner at nagtagpo kayo nitong mga drug lord na ito (and the drug lords resist arrest), kill them," Duterte said. "You have to perform your duty and to save your own life if it is in danger, okay 'yan (that's all right). I assume full responsibility."
In May, Duterte said he won't apologize for his anti-narcotics campaign, saying he did the "right" thing in launching a war on drug syndicates right at the start of his six-year term in July 2016.
He vowed that when he becomes a civilian, he would continue to take a vital role in fighting illegal drugs to help maintain peace and order.
Duterte was earlier considered as the incoming administration's drug czar but said he would reject the offer as he already wants to retire from politics.
The Real Numbers data from the Philippine Drug Enforcement Agency bared that from July 2016 to March 2022, a total of 14,888 high-value targets have been arrested since Duterte launched the anti-illegal drugs campaign.
The conduct of 233,356 anti-drug operations nationwide led to the arrest of 336,796 and the death of 6,241 suspects. (PNA)