By Ivan Stewart Saldajeno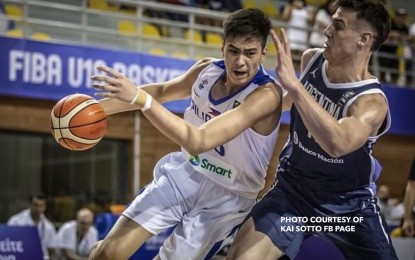 MANILA – The Filipinos' hope to see a homegrown player get drafted into the National Basketball Association (NBA) remains a dream after seven-foot-three wunderkind Kai Sotto was left undrafted in the 2022 edition of the league's annual draft on Friday (Philippine Time) at the Barclays Center in Brooklyn.
The Adelaide 36er was not among the 58 players chosen for this year's draft headlined by top pick Paolo Banchero.
Banchero went to Orlando as the number one pick.
The 6-foot-10 power forward, who expressed his desire to represent Italy in international play, became the second player of Italian descent to be selected first overall after Toronto took Andrea Bargnani as the first pick in the 2006 draft.
Chet Holmgren, who was the consensus number one pick in early mock drafts before Banchero's draft stock went on a steady increase, went to Oklahoma City as the second pick.
Jabari Smith, who became a late consideration for the number one pick, ended up with Houston as the third overall pick, joining Filipino-American Jalen Green, the second pick in last year's draft.
Gilas or Summer League?
All is not lost for Sotto, though, as he is now declared a free agent, making him eligible to be signed up by NBA teams at least for their Summer League squads.
However, this is now a dilemma for Sotto's camp as the NBA Summer League coincides with Gilas Pilipinas' upcoming tournaments, the FIBA World Cup Qualifiers and the FIBA Asia Cup.
Interestingly enough, Sotto's availability for both the Summer League and Gilas is in question.
In an interview with Quinito Henson and Gretchen Ho over PlayItRight TV, Sotto's agent, Joel Bell, claimed that the former Jr. NBA Philippines Most Valuable Player is choosing Gilas over the Summer League.
"I've already got several Summer League invites for him, but Kai has decided to play with the Philippine national team. That's his commitment. He's very dedicated to Filipino pride, so he's gonna pass up the Summer League and play with the Philippine national team," Bell said.
He even said that Sotto's camp might prefer going to another league or staying in the NBL.
"We're not gonna do two-way and G-League Exhibit 10 contracts… At this point, the plan is for him to go to a non-North American league. He could go back to Australia. There are some teams in Europe that are interested in him. He's gonna develop wherever he goes," Bell continued, adding that such special NBA contracts would not guarantee Sotto more playing time.
However, in a tweet right after the live podcast, Sotto clarified that there is no final decision on whether he will join the Summer League or be with Gilas instead.
"I want to clarify that no decision has been made about me not playing in the Summer League. My agent misspoke," Sotto said.
Sotto's agency, East-West Private, added as quoted by Henson in a separate tweet, "No decision has been made as to what his next step will be. Kai is exploring all options, including playing in the NBA Summer League. NBA agent Joel Bell has still to discuss with Kai & East-West Private what are the available options."
Sotto, meanwhile, thanked his fans for the support despite the setback.
"Thank you to everyone for your support and kind words tonight. I won't stop pursuing the dream of being in the NBA. This is not the end," he vowed. (PNA)