By Filane Mikee Cervantes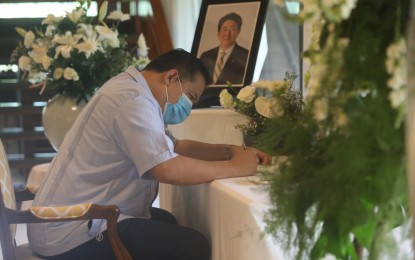 TRIBUTE. Leyte Representative Martin Romualdez pays tribute to the late Japanese former Prime Minister Shinzo Abe during his visit to the Makati residence of Japanese Ambassador to the Philippines Koshikawa Kazuhiko on Tuesday (July 12, 2022). Abe died after a man shot him from behind during a campaign rally on July 8. (Photo courtesy of Romualdez' office)
MANILA – Leyte Representative Martin Romualdez on Tuesday paid his last respects to former Japanese Prime Minister Shinzo Abe, citing his huge role in making the alliance and people-to-people ties of the Philippines and Japan stronger.
Romualdez personally visited the official residence of Japanese Ambassador to the Philippines Koshikawa Kazuhiko to pay tribute to Abe, whom he described as "a dear friend of the Filipino people."
"With the deepest and most profound condolences and prayers, we mourn the loss and sudden passing of a great leader and true friend," Romualdez wrote in the official condolence book.
Romualdez also cited Abe's love, compassion and kindness for Filipinos, as he expressed the country's "collective wish across the sea" that justice be served to his family and to the Japanese people.
"I join the country of Japan and the Filipino nation in mourning the death of the beloved leader," Romualdez said.
"Shinzo Abe is a dear friend of the Filipino people, and we are saddened by this dastardly attack on such a peaceful man. Our thoughts and prayers are with him, his family and the people of Japan," he added.

Abe died on July 8 after he was shot by a 41-year-old man from behind using an improvised handgun while he was speaking during a campaign rally in Nara City two days ahead of a national election. (PNA)