By Azer Parrocha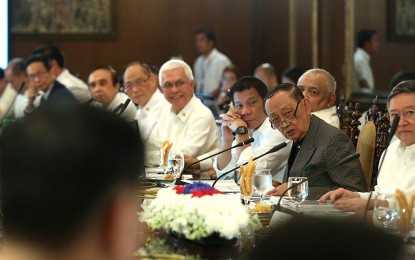 PUBLIC SERVANT. The late former president Fidel V. Ramos (in gray) briefly served as Special Envoy to China during the Duterte administration. He is seen attending a Cabinet meeting in Malacañang Palace's State Dining Room, with former president Rodrigo Duterte to his right, on Aug. 22, 2016. (PCOO file photo)
MANILA – President Ferdinand "Bongbong" Marcos Jr. is mourning the passing of former President Fidel V. Ramos on Sunday.
In his official Facebook page, Marcos offered condolences to the Ramos family.
"I extend my deepest condolences to the family of former President Fidel Valdez Ramos who passed away today, having lived a full life as a military officer and public servant," Marcos said.
Ramos was the second cousin of Marcos' father, the late former president Ferdinand Marcos Sr.
Marcos Sr.'s paternal grandfather, Fabian Marcos, and Ramos' maternal grandmother, Crispina Marcos-Valdez, were siblings.
"Our family shares the Filipino people's grief on this sad day. We did not only lose a good leader but also a member of the family," he added.
The President enjoined all Filipinos to pray for the eternal repose of Ramos.
"The legacy of his presidency will always be cherished and will be forever enshrined in the hearts of our grateful nation," he said.
Marcos' statement came after the Ramos family confirmed the former president's passing.
"The Ramos family is profoundly saddened to announce the passing of former President Fidel Valdez Ramos. We thank you all for respecting our privacy, as the family takes some time to grieve together," the Ramos family said in a statement.
They will be announcing wake and funeral arrangements "in the near future."
Duterte sends condolences
Former president Rodrigo Duterte likewise expressed "deep sadness" on Ramos' passing.
"I am one with his wife, Ming, his family, his friends, and the entire Filipino people in mourning the death of a great statesman, mentor, and friend," Duterte said in a statement. "As we grieve his loss, let us honor his legacy of service and his significant contributions to the country. May God grant eternal repose on his soul and give strength and solace to all of his bereaved."
Ramos briefly served as special envoy to China during the first year of the Duterte administration in 2016.
Ramos was also chief of the then-Philippine Constabulary, Chief of Staff of the Armed Forces of the Philippines, and Secretary of the National Defense before becoming the country's 12th president from 1992 to 1998.
Popularly known as "FVR", he was born in Lingayen, Pangasinan on March 18, 1928. (PNA)