By Raymond Carl Dela Cruz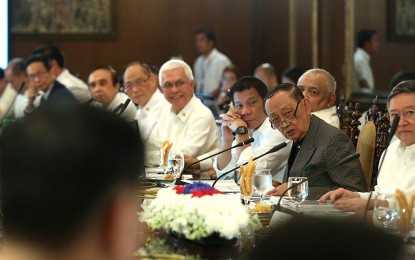 PUBLIC SERVANT. The late former president Fidel V. Ramos (in gray) briefly served as Special Envoy to China during the Duterte administration. He is seen attending a Cabinet meeting in Malacañang Palace's State Dining Room, with former president Rodrigo Duterte to his right, on Aug. 22, 2016. (PCOO file photo)
MANILA – The Department of Foreign Affairs (DFA) is joining Filipinos in mourning former president Fidel V. Ramos who it described as a "foreign policy president who shaped the evolution of the department".
In a statement Sunday night, the DFA said Ramos instituted economic diplomacy and the protection of overseas Filipinos as pillars of Philippine foreign policy.
"His visits to foreign countries during his six-year term focused on the post-Cold War opportunities offered in multilateral and economic diplomacy, and raised the profile of the Philippines in the region and globally," the statement read.
Ramos died on Sunday at the age of 94.
Among the key legacies of the Ramos administration is The Migrant Workers and Overseas Filipinos Act which decreed higher standards of protection and the promotion of the welfare of migrant Filipino workers, their families and distressed Filipinos abroad.
Ramos is the son of former Foreign Secretary Narciso R. Ramos and brother of two diplomats and a member of the Philippine Expeditionary Force to Korea.
"President Ramos demonstrated a keen understanding of government service and a strong work ethic that inspired generations of public servants," the DFA said.
In a separate statement posted on Twitter Monday, Foreign Affairs Secretary Enrique Manalo also sent his condolences to the kin of Ramos.
He said the former president "implemented systemic reforms to effect change at a critical time for the Philippines" and would always be remembered as a "visionary" in foreign policy.
"His leadership through the Philippines 2000 steered our country to greater economic heights, with his opening of the Philippine economy and relentless campaigning for the country's economic potential to the international community," he said.
"His contributions to our foreign policy will continue to benefit future generations of Filipinos. The DFA community extends its support and prayers to the Ramos family at this difficult time," he added.
Ramos briefly served as Special Envoy to China during the Duterte administration. (PNA)