By Joyce Ann L. Rocamora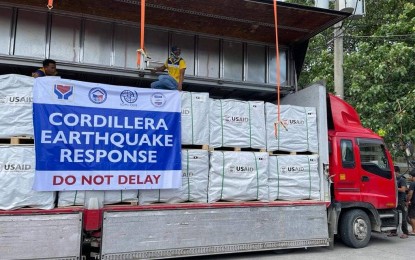 (Photo courtesy of PIA-Abra)
MANILA – The United Nations (UN) has arranged a satellite image assessment of the impact of the magnitude 7 earthquake that rocked Abra and nearby areas in northern Luzon last week.
The assessment would help support the country's response efforts.
"The UN Office for the Coordination of Humanitarian Affairs (OCHA) is presently working with the UN Satellite Centre (UNOSAT) in the production of satellite images to help humanitarian responders in prioritizing areas severely affected by the shock," Gustavo González, UN Resident Coordinator and Humanitarian Coordinator in the Philippines, said Tuesday.
"During this difficult time, the Government serves as a beacon of hope to alleviate human suffering and save lives. The Humanitarian Country Team and United Nations system in the Philippines stand ready to support the Government and remain a reliable partner in this stride," he added.
González expressed solidarity with the victims of the July 27 quake and commended "the Government of the Philippines for their prompt reaction and the stewardship of responding to the needs of its constituents."
Based on the latest UN Philippines data, the Department of Social Welfare and Development (DSWD) has so far released 41,000 family food packs to field offices in the Cordillera and Ilocos Regions, with 25,000 more to be delivered to augment local response efforts.
The DSWD also activated the Gender-Based Violence sub-cluster to ensure the protection of internally displaced persons, especially women and children.
The Department of Human Settlements and Urban Development, with support from the International Organization for Migration and the United States, distributed 2,000 tarpaulins in Abra and 1,000 more in Ilocos Sur.
An additional 600 tarpaulins were distributed by the Office of Civil Defense (OCD), the report added.
The Department of Health provided hospital tents, beds, hygiene kits, and various medicines to the Abra Provincial Hospital.
Members of the government health cluster are providing medical services, distributing water purification tablets, monitoring and testing water quality, and rationing water.
The Government Search, Rescue and Retrieval Cluster, led by the military, deployed 55 Urban Search and Rescue teams from the uniformed services while military air assets transported relief items to mountainous areas that have been cut off, the UN Philippines said.
It noted that humanitarian agencies continue to support their government counterparts, such as the World Food Programme, which provided 15 trucks to OCD and DSWD.
Members of the shelter cluster are likewise deploying structural engineers to conduct post-earthquake inspection of critical buildings and residential structures. (PNA)