By Sarwell Meniano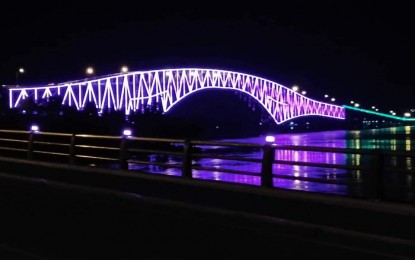 HONORING THE QUEEN. The 2.16-kilometer San Juanico Bridge that links the islands of Samar and Leyte glowed in purple Sunday night (September 11) to honor the late Queen Elizabeth II who inspired women to become leaders. (Photo courtesy Governor Ann Tan)
TACLOBAN CITY – The 2.16-kilometer San Juanico Bridge that links the islands of Samar and Leyte glowed in purple Sunday night to honor the late Queen Elizabeth II who inspired women to become leaders.
Samar Governor Sharee Ann Tan said the province offers its sincere condolences to the loved ones the Queen left behind and "the people she honorably served."
"Her life was a testament of unwavering commitment and her 70-year reign as Queen was marked with gentleness and a mother's loving touch. Her sense of duty is something that we should all emulate," Tan said in a statement on Monday.
For nearly an hour, the bridge brightly shined in hues of purple since the color has been associated with power and royalty, according to history.com. The British Royal Family and other European royalties still use it as ceremonial color on special occasions.
The bridge lighting dry run honored the Queen as she inspired many women in Samar province to aspire for leadership, according to Tan.
The San Juanico Bridge aesthetic lighting project is almost complete, but government has yet to announce its inauguration date.
The Department of Tourism said the bridge is being lighted regularly, but it's "not the final rendition yet since different light show programs are still being uploaded."
The PHP80-million San Juanico Aesthetic Lighting project was approved in 2018, with bidding that started in 2019, and groundworks that began in the same year.
Under initial plans, the lighting will be in the default position for 45 minutes per hour in white and strobe lights. There will be a 10-minute light show six times nightly.
The colors may also depend on the occasion, such as red for Valentine's, red and green for Christmas, and violet for Lent.
The bridge's transformation would be a new attraction under the Spark Samar, a branding campaign of the local government that was launched in 2015.
The San Juanico Bridge, which spans 2.162 kilometers, was built as part of the Pan-Philippine Highway now called the Maharlika Highway, a network of roads, bridges, and sea routes that connect the islands of Luzon, Samar, Leyte, and Mindanao. (PNA)