By Joyce Ann L. Rocamora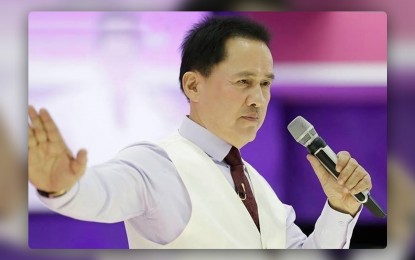 SANCTIONED. Kingdom of Jesus Christ, The Name Above Every Name (KOJC) founder and leader Apollo Quiboloy has been sanctioned by the US Treasury Department on Friday (December 9, 2022) for his alleged involvement in corruption and serious human rights violations. The pastor is also on the Federal Bureau of Investigation's most wanted list. (PNA file photo)
MANILA (Philippines News Agency)– The United States has imposed sanctions against religious leader Apollo Quiboloy, who is also included in its most wanted list, over what it called "serious human rights violations".
Quiboloy, founder and leader of the Kingdom of Jesus Christ, The Name Above Every Name (KOJC), is among the around 40 individuals from across nine countries sanctioned by the US Department of Treasury for alleged involvement in corruption and human rights abuses.
His designation was pursuant to an executive order implementing the US Global Magnitsky Act amid his alleged involvement in the sex trafficking of young girls within his religious group.
"Quiboloy is sanctioned under the Global Magnitsky Act for human rights violations. Among other effects, all property and interests in property for Quiboloy in the US are blocked, and US persons and entities are blocked from engaging in transactions with Quiboloy," the US Embassy in Manila said Saturday.
In a press release dated Dec. 9, the Treasury Department accused Quiboloy of engaging in "a pattern of systemic and pervasive rape of girls as young as 11 years old, as well as other physical abuse" for more than a decade.
The Filipino pastor was indicted in November 2021 for conspiracy to engage in sex trafficking by force, fraud and coercion, and sex trafficking of children and is currently on the Federal Bureau of Investigation's (FBI) wanted list.
The victims, according to the indictment, were recruited to work as his personal assistants or "pastorals" and were allegedly directed to have sex with him during "night duty".
"Quiboloy kept pastorals in various countries, including the Philippines and the United States," the Treasury Department said.
"Quiboloy exploited his role within the KOJC to rape his victims and subject them to other physical abuse, describing these acts as sacrifices required by the Bible and by God for the victims' salvation," it added.
The sanctions were announced as the world marks the International Anti-Corruption and Human Rights Day on Dec. 10. (PNA)