By Ferdinand Patinio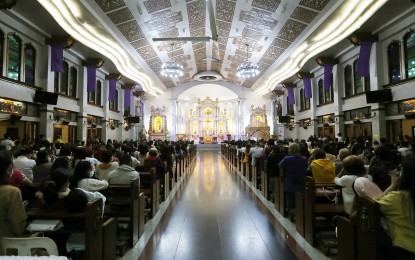 'SIMBANG GABI'. Catholic devotees attend the first Simbang Gabi at the Sto. Niño de Praga Parish in Cogeo, Antipolo City, Rizal province on Friday (Dec. 16, 2022). The Simbang Gabi is a novena of Masses celebrated daily until Christmas day in honor of the Blessed Virgin Mary. (PNA photo by Joey O. Razon)
MANILA – Manila Archbishop Jose Cardinal Advincula on Friday expressed hope that the faithful would focus on Jesus Christ as the light of the world amid festivities and other activities for the holiday season.
"Jesus is the light of the world that will shine on us. Jesus is the bread of life that will satisfy our hunger. Jesus is the Emmanuel who is our journey and ally in life," he said in an interview over Church-run Radio Veritas.
This came as the Simbang Gabi or the nine-day dawn Masses in honor of the Blessed Virgin Mary in preparation for Jesus' birth officially started on Friday.
Advincula, meanwhile, hoped that the faithful will have the same enthusiasm and vigor in attending regular Masses just like what they do during the Simbang Gabi.
He also praised the enthusiasm of the Filipinos in attending Simbang Gabi which shows everyone's joy at the coming of Jesus Christ.
"This is the experience offered to us by the evening church such as light, fullness and togetherness, which is probably the reason why despite the hardships and crises that we Filipinos are going through, we continue to return to the churches for evening," he said in an interview over Church-run Radio Veritas.
"Because perhaps these three experiences are what we most hope for and what we need," he added.
This year, churches are expected to be filled with devotees as the government eased pandemic restrictions on gatherings. (PNA)