By Joyce Ann L. Rocamora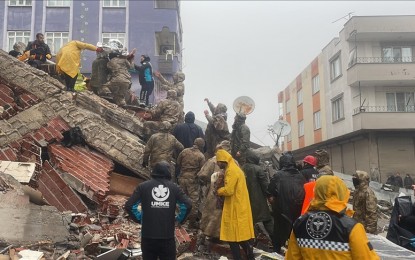 A building was reduced to rubble following a powerful 7.8 magnitude quake in Türkiye on Feb. 6, 2023. (Anadolu photo)
MANILA — No Filipino in Syria was reported injured or died in the 7.8-magnitude earthquake that struck near the Turkish and Syrian border on Feb. 6, the Department of Foreign Affairs (DFA) said Tuesday.
"The Philippine Embassy in Damascus reported that leaders of the Filipino community have been contacted and they confirmed that no Filipino was injured as a result of the earthquake in regions including those that were greatly affected," said DFA spokesperson Ma. Teresita Daza.
Based on the latest DFA data, there are about 60 Filipinos in the earthquake-affected areas in Syria, including Aleppo, Latakia, Tartous, and Hama.
None of the 248 Filipinos in the affected Türkiye provinces were also hurt, the agency said in an update.
Foreign Affairs Secretary Enrique Manalo, meanwhile, offered his condolences to the bereaved families of the victims killed by the tremors.
He said the Philippine Embassies in Syria and Türkiye would continue to monitor the situation and coordinate with Filipino communities in their jurisdictions.
"I offer my condolences to the people of Türkiye and Syria for the tragic loss of lives & catastrophic damage caused by yesterday's quake. (Philippine) Embassies in the affected countries are monitoring situation & we are coordinating w/ them on the condition of Filipinos in their jurisdictions," he said in a tweet.
Over 4,000 fatalities in Türkiye and Syria as well as dozens of aftershocks had been reported.
This was Türkiye's most powerful earthquake recorded since 1939 and was also felt in Cyprus, Jordan, Lebanon, and Egypt. (PNA)