By Joyce Ann L. Rocamora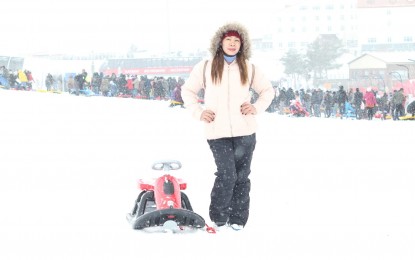 Juliva Benlingan (Courtesy of Julz Benlingan Facebook)
MANILA – The Filipino woman who was rescued after 60 hours under the rubble in Hatay province is "recovering well," the Philippine Embassy in Türkiye said Tuesday.
Juliva Benlingan was working when she was reported missing after the 7.7-magnitude earthquake hit southeastern Türkiye on Feb. 6.
Benlingan's sister, Maribel, reported on Feb. 9 that Juliva was found alive, a day after her employer informed them that she was "left in the building because she's dead."
Embassy officials on Tuesday visited Benlingan at a hospital in Adana province.
"She thanks God for a second chance at life and the Embassy for their well-wishes," the embassy said.
The embassy's Mersin-based team also provided Benlingan with financial aid and gave tokens of appreciation to her attending doctors and nurses.
"From the time we learned of the earthquake in Turkey and we cannot contact our sister, working in Hatay, we bended in prayer pleading to God for miracles. I received a call from the employer yesterday telling me that my sister was left in the building because she's dead. But, we did not give up praying for miracles, all the more that we stormed the heavens crying for life. And indeed God answered our prayers. From the bottom of our hearts, thank you so much," Maribel posted on Facebook after her sister's rescue.
The embassy, meanwhile, continues to provide all possible aid to distressed Filipinos in other affected areas.
"In its continuous evaluation of the situation on the ground, the Embassy of the Philippines in Ankara is focusing the management of its resources towards the welfare, recovery, and return to normalcy of Filipino evacuees," it said.
Based on the DFA data as of Feb. 13, at least 64 Filipinos are taking shelter at the Philippine Embassy in Ankara, located over 600 kilometers from the severely-hit southeast area.
The Anadolu news agency report on Monday said 31,643 people have been killed by the magnitude 7.7 and 7.6 earthquakes, centered in Kahramanmaras province.
More than 13 million people are affected across 10 provinces, including Hatay, Gaziantep, Adiyaman, Malatya, Adana, Diyarbakir, Kilis, Osmaniye and Sanliurfa.
Several countries in the region, including Syria and Lebanon, also felt the strong tremors that struck Türkiye in the space of less than 10 hours. (PNA)