By Ramon Monsalve, Jr.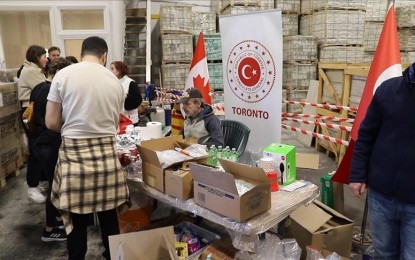 (File photo)
TRENTON, Canada (Anadolu/PNA) – Canada answered the United Nations' (UN) call for more aid Friday and announced another 30 million Canadian dollars (USD22 million) for those affected by the disastrous earthquakes in Türkiye and Syria.
The funds come from 20 million Canadian dollars in direct relief, and the government will match 10 million Canadian dollars in donations to the Humanitarian Coalition, International Development Minister Harjit Sajjan said Friday in a statement.
The Humanitarian Coalition is the creation of World Vision, Oxfam, and Plan International.
The organization is supplying food, water, and health assistance to earthquake survivors.
Canadian lawmakers had asked the federal government to ante up more matching funds and the UN had urged countries to donate more in financial aid.
The UN said gymnasiums, stadiums, and other accommodations are providing temporary shelter for more than one million people and services are difficult to access.
"The children and families who survived the earthquake now face homelessness, lack of food and water, and temperatures that regularly drop below freezing at night," said Afshan Khan, regional director of the UN Children's Fund for Europe and Central Asia.
More than 47,000 died in the devastating earthquakes on Feb. 6.
The magnitude 7.7 and 7.6 tremors struck 10 other provinces – Hatay, Gaziantep, Adiyaman, Malatya, Adana, Diyarbakir, Kilis, Osmaniye, Sanliurfa, and Elazig.
About 13.5 million people have been affected by the devastating quakes.
As well as Syria, several countries in the region, including Lebanon, also felt the strong trembles that struck Türkiye in a space of fewer than 10 hours. (Anadolu)