News Release
Stingers Announce U SPORTS Draft Picks
By Alex Jap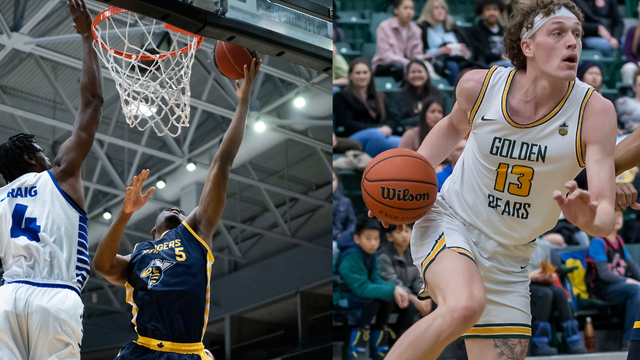 Edmonton Stingers Draft Somto Dimanochie and Adam Paige in CEBL U SPORTS Draft
Edmonton — The Edmonton Stingers of the Canadian Elite Basketball League (CEBL) announced Wednesday their draft picks of the 2023 CEBL USPORT Draft. With the fourth overall pick, they have selected Somto Dimanochie of York University; with the 17th overall pick they have selected Adam Paige of the University of Alberta. Dimanochie and Paige were U SPORTS Development Athletes with the Stingers and Fraser Valley (now Vancouver) Bandits respectively last season. 
"We drafted two terrific prospects in Adam Paige and Somto Dimanochie in this year's CEBL U SPORTS draft," said Stingers general manager Steve Sir. "Both players come in with valuable experience having already played in the CEBL. They bring size and versatility which will help them compete to earn minutes this season."
Dimanochie appeared in 6 games for the Stingers in 2022 after being drafted 11th overall, tallying a season high 9 points on June 25th versus Guelph. The 6'9" forward then returned to the York University Lions to complete his fourth U SPORTS season with the team, setting career highs in scoring (20.3 points per game) and rebounding (10.9 per game) on 48.3% field goal shooting. He tied York's program single-game rebounding record with 21 boards on February 19 versus Algoma, also scoring a career-high tying 32 points. It was his tenth time eclipsing the 20-point mark that season, and 11th game with double-digit rebounds.
"I'm excited to be back and join the franchise that welcomed me," said Dimanochie. "It's going to be a different year for the team and for me, but new challenges always come with new heights. Always, always the goal is to win; that's the DNA of the club and we will continue to live by that."
"Somto made great strides as a member of the Stingers last summer," said Stingers head coach Jordan Baker. Baker and Dimanochie were teammates on the Stingers last season. "We are counting on him to continue to grow and learn as he begins his promising professional career."
Paige has two CEBL seasons under his belt as a member of the Bandits. During the 2021 and 2022 seasons, the Surrey native played in 15 games, setting a career-high 6 points and 5 rebounds last season on June 26 versus Newfoundland. Paige recently finished his fourth season with the University of Alberta Golden Bears, where he averaged 13.4 points per game.
It was the most recent season in a successful U SPORTS career for Paige. He won silver with the Bears at the 2022 Canada West Championships and took home bronze at the 2022 U SPORTS Final 8 national championships the same year. During his rookie season in 2018-2019, Paige was named Canada West Rookie of the Year, Canada West All-Rookie Team, and U SPORTS All-Rookie Team. Paige will reunite with Baker, who was an assistant coach at U of A during Paige's first two seasons with the Bears.
"I'm super excited to stay in Edmonton and play for a great organization in the Stingers," said Paige. "Edmonton has such a rich and talented basketball community that continues to grow every year due to the success of the Stingers organization. I'm thrilled to once again be coached by Jordan Baker and have the opportunity to personally improve and gain more experience to bring back to U of A next year. Building on last year's team, Stingers fans should be excited for the upcoming year and the successes that follow."
"We are excited for what Adam can bring to the Edmonton Stingers," said Baker. "His shooting ability and length make him a special prospect for us to develop this summer."
The Stingers begin their 2023 season with back-to-back games against the Calgary Surge May 27 and 28, first in Calgary then at home at the Flair Airlines Hangar in the Edmonton EXPO Centre. With the home opener officially sold out, tickets to all remaining home games are still available online (www.thestinger.ca/tickets) or by contacting the Stingers front office via email (tickets@thestingers.ca) or phone (1-87STINGERS). Special rates for group tickets and flex packs are available.