By Ruth Abbey Gita-Carlos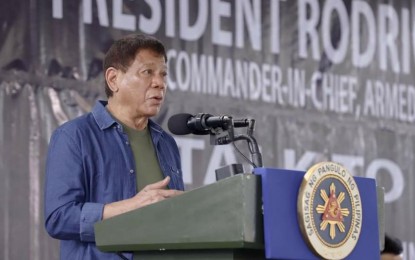 President Rodrigo Duterte. (Presidential Photo)
MANILA (Philippines News Agency) – President Rodrigo Duterte on Friday lamented that terrorism and insurgency remain a threat to public order amid the coronavirus disease 2019 (Covid-19) pandemic.
Speaking before troops in Jolo, Sulu, Duterte said terror groups and the communist movement have done nothing but disrupt progress in the country.
"Our progress as a nation has been hindered by the insurgency and terrorism for several decades," Duterte said. "To this day, terrorism and insurgency continue to plague our land, disrupting public order in the middle of a pandemic. Eh, they are taking advantage of the situation."
Duterte, nevertheless, expressed confidence that his administration, through the state forces, will succeed in its fight against terrorism and insurgency.
He was also grateful to men and women in uniform who are "taking the risk to deter those who disrupt the peace of our country."
"With your support, I remain confident that we will prevail over the challenges that confront us. Be assured that the entire Filipino people are behind you as you secure genuine and lasting change for our motherland," Duterte said.
'Full support'
Duterte renewed his vow that the military would get his "full" support amid their war on terrorism.
"To you, the men of the Armed Forces of the Philippines, I would like to tell you that I am here – not really to protect wrongdoings because I will not also do that – but you have my full support in everything that we do, which I think is the best for the country and for the rest of the Philippines," he said.
Duterte gave the reassurance as he honored AFP personnel who exhibited "exemplary heroism in the face of danger."
He also thanked the members of the Joint Task Force Sulu and the 11th Infantry Division for their recent gains against the Abu Sayyaf Group.
"Your determination has greatly reduced their strength in the past year," Duterte said. "As we march onwards this new year, I am hopeful that we will continue to eliminate these terrorist groups in Sulu for good."
'No compromise'
Duterte said no compromise would be reached with the terrorists and communist insurgents.
"Kung bayan ang pag-usapan, kapakanan na ng bayan (If we are talking about the welfare of our country) – and to everybody, to the communists, to the Abu Sayyaf, hindi ako puwede diyan (I will not allow it), I will not compromise," he said.
The Communist Party of the Philippines' New People's Army, has also been listed by the Philippines as a terror group.
Apart from the Philippines, the CPP-NPA has been branded as a terror organization by the United States, the European Union, the United Kingdom, Australia, Canada, and New Zealand. (PNA)