By Ivan Stewart Saldajeno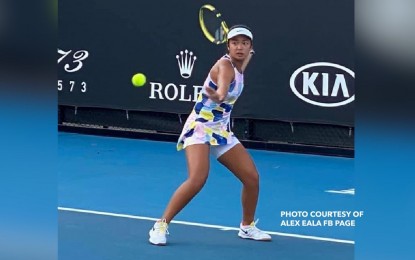 Filipina tennis player Alex Eala (Photo grab from Facebook)
MANILA – Filipina tennis player Alex Eala won her first title in the professional ranks after ruling the ITF Rafa Nadal Academy World Tour in Spain.
The 15-year-old defeated Yvonne Cavalle-Reimers, 5-7, 6-1, 6-2, in the final on Sunday.
Eala overcame a poor first set and dominated Reimers in the final two sets to take home the trophy.
Despite not having the better first serve percentage, she got things done in the shots that mattered more.
She won 51 percent of the exchanges after converting on the first serve and 50 percent on the second serve.
Reimers struggled all match long, only making 34 percent of wins in the first serve and 38 percent in the second.
Eala had more break points than Reimers, 12-8. (PNA)