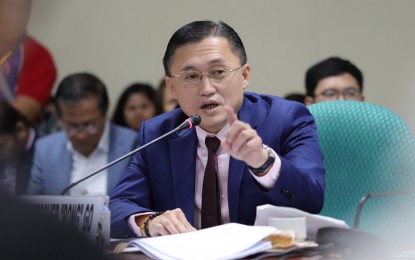 Senator Christopher Lawrence "Bong" Go (File photo)
MANILA ( Philippines News Agency)– Senator Christopher Lawrence "Bong" Go called on Filipinos to unite against terrorism as he paid tribute to the ultimate sacrifice of the 44 Special Action Force (SAF) commandos who died in the so-called Mamasapano massacre on Jan. 25, 2015.
"Six years ago, our nation witnessed the death of 44 of our most gallant men in the Special Action Force, now widely known as the SAF 44. Through this ceremony, we remember their lives and their ultimate sacrifice that have helped make our country a safer place to live in," Go said in a video message during the observance of the National Day of Remembrance for the SAF 44 last Monday.
Go urged Filipinos not to forget the heroism of the SAF 44.
"Hindi matutumbasan ang sakripisyo na kanilang ginawa para lang manatiling ligtas ang ating mga mamamayan at gawing mapayapa ang ating lipunan. Hindi rin natin mababayaran kailanman ang sakit na nararamdaman ng mga pamilya na kanilang naiwan (The sacrifice they made just to keep our people safe and to make our society peaceful cannot be measured. Nor can we ever pay for the pain felt by the families they left behind)," he said in a news release on Jan. 26.
President Rodrigo Duterte, in Proclamation 167 he signed in February 2017, declared January 25 of every year a "Day of National Remembrance" of the Fallen 44 who will henceforth serve as a "constant reminder of the continuing sacrifices being made by our valiant uniformed men and women in the line of duty."
Go reaffirmed Duterte's commitment to honor the memory of the slain members of the special police force by ensuring the welfare of the families they left behind.
"Sa mga pamilyang naiwan ng ating SAF 44, hindi po namin kayo pababayaan at iiwan. Asahan po ninyo ang patuloy na pagtulong at pag-alalay ng pamahalaan sa inyong lahat (To the families left behind by our SAF 44, we will not abandon you. Rest assured that the government will continue to help and support all of you)," he said.
He also thanked the Philippine National Police (PNP) for the critical role it plays in ensuring peace in communities nationwide, guaranteeing his support as it continues to perform its duties for the nation.
Go asked Filipinos to recall the daily sacrifices of the men and women of the PNP who are facing the same risks during these trying times as they take the lead in implementing the community quarantine protocols.
To protect further the welfare of men in uniform, he filed Senate Bill 393 in 2019, which seeks to provide free legal assistance to any officer or enlisted personnel of the PNP and Armed Forces of the Philippines who is facing charges arising from any incident related to the performance of his or her official duties.
"Nasa front line natin ang ating mga kapulisan at mga sundalo sa kampanya ng pamahalaan upang masiguro na ligtas ang ating mga mamamayan mula sa banta ng mga kriminal, lalo na ang mga drug syndicates at mga terorista (Our police and soldiers are on the front line of the government's campaign to make sure that our countrymen are safe from criminals, especially from drug syndicates and terrorists)," he said.
When he was still the Special Assistant to the President, Go said he personally sought support among lawmakers for the increase in salaries of the police, military, and other uniformed personnel, a campaign promise of the President, to make it "more commensurate with their critical role in maintaining national security and peace and order."
On Jan. 25, 2015, SAF commandos carried out a law enforcement operation against two high-value targets, Malaysian terrorist Zulkifli bin Hir, alias Marwan, and terrorist Abdul Basit Usman.
The SAF commandos were able to kill Marwan but failed to get Usman, who was later killed in another operation.
On their way out, a firefight occurred, which eventually trapped 45 SAF commandos, with only one surviving after swimming on a creek and hiding on bushes on his way out. (PR)