By Joyce Ann L. Rocamora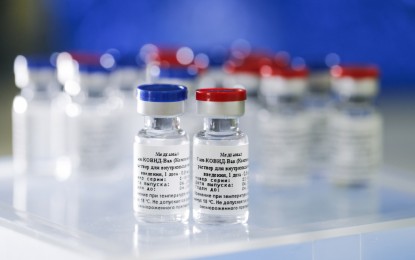 (Photo courtesy of sputnikvaccine.com)
MANILA (Philippines News Agency)– Moscow is willing to partner with local firms to produce the Russian-developed Sputnik V vaccines in the Philippines.
"We are open to produce our vaccine in the Philippines. We believe that we can start production in the Philippines within the next four to five months if Philippine partners move in the right speed with us," Kirill Dmitriev, CEO of the Russian Direct Investment Fund, said in a CNN Philippines interview on Friday following the shot's approval for emergency use in the country.
"We believe that Russia and the Philippines can be great partners on the production of Sputnik V vaccines, not only for (the) Philippines but also for the region."
Dmitriev said Russia has already spoken with some local players but a final agreement has yet to be reached.
"We are in the sort of final negotiation process with them and if we reach a final agreement, we can do this production. But if not, we'll be supplying vaccines from India, Brazil, China, Korea, and other countries where Sputnik V has been agreed to be produced," he added.
Russia is expected to make the first shipment of Sputnik V to Manila by the first half of April 2021.
While there's a great demand for the Russian-developed vaccines abroad, Dmitriev said Manila remains "a great priority" and Moscow would work closely with the government to deliver enough vaccine doses for Filipinos.
READ: 3M doses of Sputnik V coming after EUA grant
On the other hand, he deferred to the government when asked how many vials would be made available to the country.
"We have to finalize some of these with the government and I think the government will make the announcement. All I can say is that we've had major progress on the production of Sputnik V," Dmitriev said.
'Mutations, variants'
He also shared Russia's cooperation with AstraZeneca to use part of Sputnik V to make the latter's vaccines "more efficient".
"We believe that from the middle of the year, we may be able to provide second shot to first shot from AstraZeneca, which would be an example of an international cooperation between vaccines," Dmitriev said.
Such an approach, he said, would be crucial, especially with the emerging mutations and variants of SARS-CoV-2.
"We confirm that Sputnik V is as efficient against British strain (sic) as with other mutations. We will be releasing information on South African and other strains within the next weeks and so far it shows very high efficacy," Dmitriev said.
"The reason we're so efficient is because Sputnik V is actually a cocktail of two different shots. And this cocktail of two different shots, we call them adenovirus 26 and adenovirus 5, makes it (a) better fighter against mutations. But we do believe that mutations have to be monitored." (PNA)