By Ruth Abbey Gita-Carlos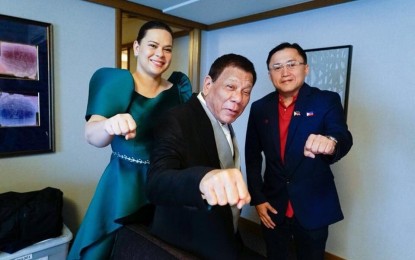 WILL THEY? Davao Mayor Sara Duterte and Senator Bong Go consistently place among the topnotchers in surveys for the 2022 presidential polls. They are shown with the President prior to the enthronement ceremony of Japanese Emperor Naruhito in October 2019. (Photo courtesy of Sen. Bong Go)
MANILA (Philippines News Agency) – Davao City Mayor Sara Duterte and Senator Christopher "Bong" Go are "destined" to join the 2022 presidential race, Chief Presidential Legal Counsel Salvador Panelo said on Saturday.
Panelo issued the statement during his commentary show "Counterpoint" as he vouched anew for Duterte and Go's competence to lead the country when President Rodrigo Duterte steps down from office.
"The ultimate decision lies not with you, Senator Go, or not with you, Mayor Inday Sara. The decision ultimately lies in the hands of the Filipino people, the electorate," Panelo said.
Both have rejected calls for them to run for president in 2022.
The younger Duterte previously said in a statement she might seek the presidency in 2034, while Go floated his possible presidential run in 2022 if the President will agree to be his running mate.
Go immediately said it was a mere banter between him and the President.
Panelo said Mayor Duterte and Go will not be able to resist, if more Filipinos join calls for them to succeed President Duterte.
"If there is a clamor for you to run, I don't think you have any reasonable, powerful justification not to fulfill your destiny. You cannot avoid that, responding to the call of the people," he said, addressing the two.
Ahead of the 2022 elections, various groups are calling for the President to seek the vice presidency and team up with either his daughter or his former long-time aide.
Duterte repeatedly hinted in previous speeches that Go might be the administration's standard bearer next year.
He also maintained that Mayor Duterte, despite consistently topping pre-election surveys, has no plans to join the presidential race. He is also discouraging her as he does not want her to inherit the problems he encountered.
Panelo said Mayor Duterte has an excellent track record and exceptional leadership, enough reason for her to succeed her father.
Go, on the other hand, is "ripe" for the 2022 presidential derby, Panelo said. (PNA)