By Ivan Stewart Saldajeno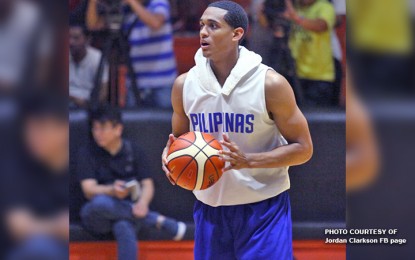 MANILA (Philippines News Agency) – The Samahang Basketbol ng Pilipinas (SBP) is one with the fans of Filipino-American basketball player Jordan Clarkson in celebrating after he won the National Basketball Association (NBA) Sixth Man award.
The league announced on Tuesday that Clarkson, currently a part of the Utah Jazz, bested teammate and Australia international Joe Ingles and New York Knicks' Derrick Rose for the said award given to those who put up impressive numbers for their teams off the bench.
"Congratulations on winning the NBA's Sixth Man of the Year award, Jordan. The SBP and the entire Philippine basketball community is proud of you," SBP president Al Panlilio said.
Clarkson was a member of the Gilas Pilipinas team that competed in the 2018 Asian Games in Jakarta.
Although it has yet to happen again, seeing Clarkson play in person gives Panlilio optimism about the six-foot-five shooting guard.
"In his short and sweet stint with Gilas Pilipinas, Jordan Clarkson showed us not only his world-class talent but also gave us a glimpse of the hard work and dedication necessary to get to that level. Getting a front-row look at Jordan during Asian Games made us all believers that he will accomplish great things in the NBA," Panlilio said.
The SBP has remained hopeful that Clarkson would be classified as a local by FIBA especially with the 2023 FIBA World Cup that the Philippines will be hosting alongside Indonesia and Japan.
But no matter what happens to his eligibility, Panlilio said Clarkson will forever be etched in Gilas' history.
"Once Gilas, always Gilas," he said. (PNA)