By Benjamin Pulta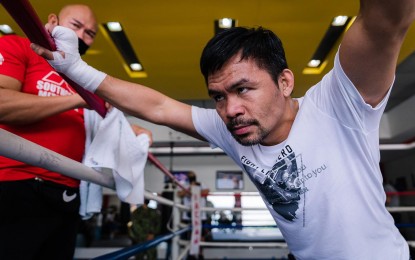 EYE ON THE PRIZE. With Congress adjourned, Senator Manny Pacquiao has all the time to train, like in this June 18, 2021 photo he posted on his social media accounts. He is facing a lawsuit for breach of contract, filed by a US-based management firm. (Photo courtesy of Manny Pacquiao Facebook)
MANILA (Philippines News Agency) – On Sunday when news broke out that he is being sued for breach of contract and his August fight is in danger of cancelation, boxing superstar and Senator Manny Pacquiao did not issue a personal statement.
He let his lawyer — and his world-famous fists — do the talking.
He merely posted a photo on his Facebook, Instagram, and Twitter accounts, showing him sparring and wearing a headgear with the caption: "55 days to go".
The lawyer of Pacquiao in the United States denounced the "frivolous" lawsuit filed against the senator and said it is "without a leg to stand on".
In a statement sent to newsmen late Sunday, Dale Kinsella said the complaint filed by Paradigm Sports in California on June 25, 2021 "is a frivolous effort to interfere with Manny Pacquiao's upcoming mega-fight" and predicted that "it can and will fail for numerous reasons".
"Had Manny Pacquiao known that Paradigm Sports appears to have had no intention of fulfilling its contractual obligations, he never would have entered into any relationship with them," he stated.
"Should this matter actually proceed beyond Friday's filing in a court of law, Mr. Pacquiao will vigorously defend this action, assert his own claims against Paradigm Sports, and seek to recover his attorney's fees as well," he added.
Paradigm claimed it has exclusive rights to negotiate the lawmaker's next two fights but his upcoming bout on August 21 in Las Vegas, Nevada with undefeated World Boxing Council and International Boxing Federation welterweight Errol Spence Jr. was brokered without the firm's knowledge.
The firm, which also represents Irish mixed martial arts superstar Conor McGregor, said Pacquiao received a $3.3-million advance payment which he has yet to return and it requested an injunction to stop the Pacquiao-Spence fight.
Pacquiao, who at 42 is 12 years older than Spence, will finish his six-year term in the Senate next year.
He will leave for the US on July 3, a week after the Senate resumes sessions. (PNA)