By Jelly Musico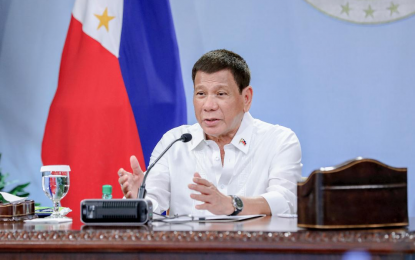 President Rodrigo Roa Duterte (File photo)
MANILA (Philippines News Agency)– President Rodrigo Roa Duterte on Monday dared Senator Manny Pacquiao to name corrupt agencies and officials or else he will campaign against the country's boxing superstar in the 2022 elections.
"So I'm challenging him, ituro mo opisina na corrupt at ako na bahala within one week, may gawin ako. Maglista ka Pacquiao at sinasabi mo two times kaming corrupt, ilista mo yun mga tao at opisina na dapat inilista mo pa noon at ibigay mo sa akin (name the corrupt office and I will do something within one week. You make a list Pacquiao and you said we're two times corrupt, list those people and offices that you should have listed before and give them to me)," Duterte said in his Talk to the People.
Duterte said Pacquiao should prove that he is not just politicking amid reports that the world boxing champion is gunning for the presidency in the 2022 elections.
"If you fail to do that, I will campaign against you, because you are not doing your duty. Do it, because if not, I will just tell the people, do not vote for Manny Pacquiao because he is a liar," Duterte said.
He said the Department of Public Works and Highway "really had notoriety" for corruption before when he became president.
"Pero wala ako nakita ngayon na corrupt (I find no corrupt now)," he said. "Every administration will have a share the problem of corruption. Do not ever think that if you will win as president na wala nang corruption dito sa Pilipinas (that corruption will be eliminated in the Philippines."
He called on everyone to join Pacquiao if they have also information about any corrupt government offices and officials.
"Yan din ang payo ko sa mga Pilipino, kung may alam kayo magsabi kayo (That is also my advice to the Filipino, if you have information, let me know), and I will be transparent, I will investigate them," he said.
Duterte said many government officials and employees have been charged before the Office of the Ombudsman and Sandiganbayan due to corruption.
He said at least 73 immigration personnel have been removed due to his government's campaign against corruption.
"Gaya ng sa Customs, masakit sa akin dahil meron 37 years in the service pero (Like in the Customs, it's painful to me because there is someone who are 37 years in the service already but) the temptation to go to graft, is very strong," Duterte said.
Duterte promised to fight corruption as well as illegal drugs and criminality when he ran and won by 6 million votes in the 2016 presidential election.
In the 2022 elections, many have been persuading the country's first leader from Mindanao to run for vice president which he said "would be dependent" on the presidential candidate he will support.
"It [running for vice president] is not at all a bad idea and if there is a space for me there, siguro, pero ako walang (maybe, but I have no) space, everybody is crowding up wanting to be vice president, sila na lang muna kasi tapos na ako (I'll leave it to them because I'm done)," he said. (PNA)