By Azer Parrocha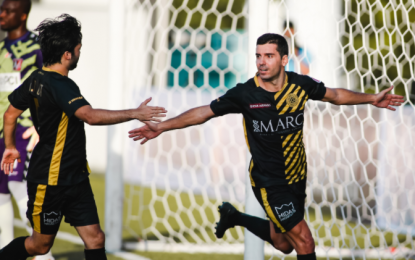 Bienvenido Morejon Marañon
MANILA (Philippines News Agency) – Spanish striker Bienvenido Morejon Marañon has been granted Filipino citizenship in a new law signed by President Rodrigo Duterte.
Republic Act No. 11570, signed by Duterte on July 2, grants Marañon "citizenship with all the rights, privileges, and prerogatives, as well as the duties and obligations appurtenant thereto under the Constitution and the laws of the Republic of the Philippines."
The law was signed after naturalization bills were approved concurrently by the House of Representatives last February 16, and the Senate on March 15.
Marañon is set to take the Oath of Allegiance to the Republic of the Philippines before an authorized officer and register with the Bureau of Immigration.
He will only be issued a certificate of naturalization when he completes his oath.
Once completed, Marañon will be able to play with the Philippine Azkals in international competitions.
Marañon, who has been in the country for at least five years, has never played for his native country's national team, satisfying the Fédération Internationale de Football Association (FIFA) rules on players who are seeking naturalization.
In a congressional hearing that deliberated his naturalization in February, Marañon said he wanted to "be part of Philippine football's development."
Despite encountering delays in his naturalization process, the 34-year-old striker kept a patient approach.
The delay ruled him out of the Philippine Azkals for the resumption of the World Cup/Asian Cup Qualifiers in Sharjah, United Arab Emirates this month. (PNA)