By Azer Parrocha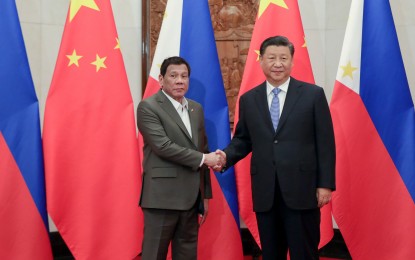 President Rodrigo Roa Duterte and Chinese President Xi Jinping (Presidential file photo)
MANILA (Philippines News Agency)– President Rodrigo Duterte on Wednesday denied that his administration has befriended China because of what the East Asian nation could give.
"They [China] offered to help. If the aid is coming, good. If not, okay lang rin sa akin (it's okay with me) because we do not make friends in anticipation of what they can give us. That is stupid. We make friends because we just like to be friends," he said in a meeting with his PDP-Laban party mates.
Duterte conveyed anew his gratitude to China for providing the country with Covid-19 vaccines, some of which were given for free.
He said China's Sinovac Covid-19 vaccines were the first brand of vaccines to arrive in the country last February.
"If your friend is kind to you, then be thankful. Kagaya nga nang pag-umpisa nitong contagion, wala talaga tayong bakuna (During the start of this contagion, we really don't have vaccines). The other nations who are rich and who had reached the apex of their technology, sila ang unang nakapagbakuna (they were the first to get vaccinated)," he added.
PH-US relations
Despite having developed closer ties with China, Duterte said it did not mean that he has "abandoned" his relationship with the United States (US).
"I never abandoned our relationship with America. Wala naman akong sinabing masakit sa kanila (I never said anything that would hurt them)," he said, noting that his independent foreign policy of being "friend to all, enemy to none" stands.
He added that the Philippines would be put in much danger if war breaks out, considering the US is nearest to Chinese outposts in the South China Sea (SCS).
"The Filipinos must realize na ang Amerikano nandito (that Americans are here) not because they want to defend us, ito 'yong battleground nila. So nandito sila (This is their battleground. They're here) because instead of fighting it out in the state of California, they would rather do it here in the Philippines," he said.
Losing Scarborough
Duterte also blamed the previous administration anew for losing possession of the Scarborough Shoal just two days after former Senator Antonio "Sonny" Trillanes IV traveled to China for the 16th time.
"They (China) are there not because they say that they want to add to their territory. They are there because they say that it's theirs and they claim of ownership. We also claim it, but we lost the Scarborough Shoal. Ang Scarborough Shoal was lost because of the past administration," he said.
China seized control of the Scarborough Shoal in a controversial standoff wherein China blocked the access of Filipino fishermen in the area in 2012.
The Aquino administration withdrew the country's ships from the shoal upon the intervention of the US while China decided to keep its ships in the area, effectively taking control of the shoal then.
On July 12, 2016, the Philippines won the arbitration case it lodged against China after the Permanent Court of Arbitration in The Hague, Netherlands invalidated Beijing's nine-dash line claim over the contested waters. China refused to acknowledge the arbitral ruling. (PNA)