By Ivan Stewart Saldajeno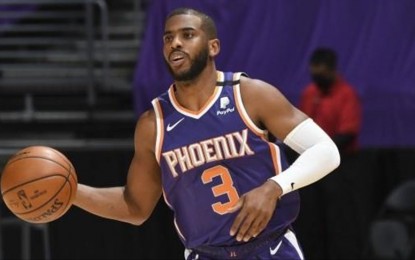 Chris Paul (Photo courtesy of Anadolu)
MANILA (Philippines News Agency)– Chris Paul sizzled in his first NBA Finals game, and the Phoenix Suns clamped down the Milwaukee Bucks, 118-105, in Game 1 of the championship series at the Phoenix Suns Arena on Wednesday (Philippine Time).
In his highly-anticipated Finals debut, Paul became the third player to score 30 points in an NBA Finals game at age 36, leading Phoenix with 32 points on 12-of-19 shooting despite going scoreless in the first quarter.
Half of Paul's scoring output came in the third period when his team began pulling away from Milwaukee.
The Bucks tried to come back, cutting the lead down to seven, 101-94, with 7:16 left in the fourth period as their three-point shooting zoomed up, but Paul and Devin Booker converted huge baskets to keep the Suns afloat.
Paul also had nine assists, becoming the first player to have at least 30 points and eight assists in his NBA Finals debut since Michael Jordan in 1991, as well as four rebounds and one steal.
Booker added 27 points on 8-of-21 field goals and a perfect 10-for-10 from the free-throw line, two rebounds, six assists, and three steals for Phoenix.
Deandre Ayton, on the other hand, went 8-for-10 from the field for 22 points with 19 rebounds and one steal.
Khris Middleton led Milwaukee with 29 points, seven rebounds, and four assists.
Giannis Antetokounmpo had a decent return to play from a hyperextended left knee, finishing with 20 points, 17 rebounds, four assists, two steals, and one block.
Game 2 is set on Friday (Philippine Time) still in Phoenix. (PNA)