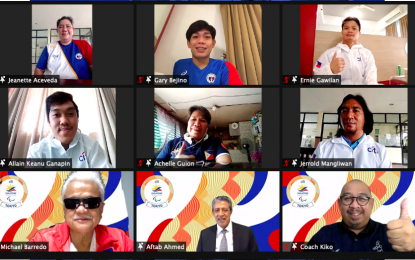 Virtual send-off for Filipino Tokyo Paralympians (Contributed photo)
MANILA – The Philippines sends off another batch of heroes, as the Philippine Paralympic Team travels to Japan for the upcoming Tokyo 2020 Paralympic Games, a major international multi parasport event governed by the International Paralympic Committee (IPC).
The 16th Summer Paralympic Games will be held in Tokyo, Japan from Aug. 24 to Sept. 5.
After the Philippines' best Olympic campaign in the Tokyo Games with weightlifting star Hidilyn Diaz winning the country's first-ever Olympic gold medal, Filipinos are now looking ahead to the performance of its six athletes competing at the upcoming Tokyo Paralympics.
These six athletes are Janette Aceveda for Para Athletics, Gary Bejino and Ernie Gawilan for Para swimming, Allain Ganapin for Para taekwondo, Achelle Guion for Para powerlifting and Jerrold Mangliwan who is also competing in Para athletics.
Mangliwan will be the country's flag bearer at the Opening ceremony.
He is also one of 41 Para athletes, who comprise "Team Citi" Para athletes who have partnered with Citi as ambassadors in support of a more diverse, inclusive society and help change perceptions of persons with disabilities.
Citi's global partnership with the IPC aims to increase awareness of the Paralympic Movement, advocate change in societies' perceptions around disability and provide support for Para athletes.
Citi Philippines held a virtual send-off for the Filipino athletes on Thursday as a show of support and to give them a chance to meet with the media before they leave for Tokyo.
Citi Philippines CEO Aftab Ahmed expressed his very strong support for the Filipino Para athletes.
"I wish all of you the very best of luck at this year's Paralympic Games in Tokyo. Over the years, some of us have had the opportunity and great pleasure to meet with many of you, and we have all been extremely impressed, inspired and encouraged by your tremendous determination and resilience. We couldn't be prouder to support such an amazing team of athletes and will be cheering for you in your quest for a medal," Ahmed said.
Philippine Paralympic Committee (PPC) President Michael Barredo said the Filipino Para athletes have been preparing for this moment for many years and have overcome the adversity of the games being postponed as well as the challenges of training during the lockdown.
"We are proud of what they have accomplished, and we are confident that their performance in the upcoming Paralympic Games will inspire us all. We would also like to express our gratitude to the Philippine Sports Commission (PSC) and sponsors like Citi who have supported us on this challenging road to Tokyo," Barredo said.
Barredo is among the officials accompanying the athletes to Tokyo which include Philippine Sports Commissioner Arnold Agustin, UP College of Human Kinetics Dean Professor Francis Carlos Diaz who is the Philippines Chef De Mission, and PPC Secretary General Walter Francis Torres.
Aside from the six athletes, the Philippine delegation staying at the Olympic village will also include five coaches, two medical staffers and two administrative staff.
Mangliwan, a two-time Paralympian, pledged that the Filipino athletes will do their best in Tokyo.
He and his fellow Paralympians received the good news just last week after the PSC provided the team with an additional PHP100,000 each in allowances.
"We would like thank the national government, our family and friends for their loyalty and support. We have overcome many challenges and adversities as athletes and Filipinos and we will fight for a medal finish. We hope to do you all proud at the Paralympic Games," Mangliwan said.
Diaz said he knows that expectations are high, and he is confident that any one of these six athletes could match or even surpass the Philippines' medal finish at the previous Paralympic games.
Powerlifter Adeline Dumapong (another Team Citi athlete) won the country's first bronze medal in the Sydney 2000, while table tennis player Josephine Medina brought home another bronze medal in the Rio Para Games five years ago.
"We believe that any of these six athletes can match or surpass the bronze medal won by Josephine Medina and Adeline Dumapong. All of them know they face tough competition in Tokyo and all of them are committed to doing their best to win a medal for the Philippines," Diaz said. (PR)