LETTERS FROM DAVAO
By Jun Ledesma
Do not test Sara's patience
VICE President Leni Robredo is having a morbid fear. She cannot stand another six years of a Duterte administration. Obviously, she is referring to Davao City Mayor Inday Sara Duterte who is leading in all Presidential surveys. The same anxiety disorder could describe Manila Mayor Isko Moreno when he told CNN Philippines' "The Source'" that he will not vote for someone who will simply inherit his or her position from a family member during the 2022 national elections. To quote him verbatim, he said, "Basta hindi ako boboto ng nagmamana lang ng pwesto. Kasi ang pwesto hindi minamana, hindi nililipat-lipat."
I do not know where this anxiety is coming from. When Pulse Asia first came out last year with a survey that had Inday Sara on top of the list, she issued a statement not to include her name in the surveys.
On the heels of that survey, early this year ex-Justice Antonio Carpio with his co-convenors Fr. Albert Alejo of Ateneo, Bro. Armin Luistro of De la Salle, lawyer Howard Calleja, and American journalist Maria Ressa organized 1Sambayan Coalition. During its launch on March 18, Carpio cannot hide the same phobia when he said that Mayor Inday Sara, under the criteria of 1Sambayan, cannot qualify for President.
But haven't they noticed? Mayor Inday Sara has not even come out with any statement that would undermine the ambitions of those who are hankering for power. Those snide remarks speak of cowardice. Why don't they just run? Why resort to attacks and innuendos? Sara should be careful, I think some freaks in the opposition managed to stick a GPS (global positioning system) device on her luggage they were even tracking her down wherever she goes.
The Dutertes may seem like they have inexhaustible patience but do not test their limits. Yorme committed the mistake of blaming "politics" behind the gathering of a mob that rushed to a vaccination site when clearly it could have been avoided. It was a super-spreader catastrophe. Do not give me that crap that it was whipped by the rumor of "walang bakuna, walang ayuda". It was a sheer case of neglect. One can only ask the question of why such a chaotic event did not happen in other places in the National Capital Region?
President Rodrigo R. Duterte played their game of hitting below the belt and the reactions range from childish to hilarious. So stop those jibberish talks at the expense of the Digong for you might get what you deserve.
For her part, the Presidential daughter remains composed civil and refused to be dragged into the murk of politics. She is beyond the childish irrelevance of VP Leni Robredo and the confused Yorme who thinks that the Philippines is a monarchy. The last time I heard of her, she plans to set up a medical oxygen production complex in Davao City to respond to emergencies not only in her city and the Davao region but for others who might be in need in the future.
But even as she is busy, do not test her patience for this iron lady from the south can dish out the most colorful language that could hit one right in the solar plexus. Mind you the only thing she did not inherit from her father is the litany of expletives but she can weave a searing repartee that the likes of Leni might feel like a thunderbolt. Go ask ex-Speaker Bebot Alvarez.
About the Columnist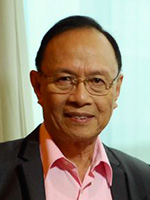 Mr. Jun Ledesma is a community journalist who writes from Davao City and comments from the perspective of a Mindanaoan.