LETTERS FROM DAVAO
By Jun Ledesma, Columnist, Philippines News Agency
THE Senate Blue Ribbon Committee (BRC) has become a veritable stage of political zarzuela where the grand inquisitors made the nation believe they have discovered a mountain of corruption in government overpriced purchases of personal protective equipment.
Blue Ribbon Committee Chairman Dick Gordon, Minority Floor Leader Frank Drilon, Risa Hontiveroz, and Reporma Party-declared Presidential candidate Ping Lacson were gloating on what they claimed were overpriced PPEs bought by the government at ₱1,700 each set. Never mind Manny Pacquiao empty rhetoric but just the same he qualifies for a comedic role in this zarzuela. Take note all five are re-electionists come 2022 regular elections.
As it turned out, the Duterte government bought the same items at almost half the price that the past administration purchased at ₱3,500 per set. Obviously, Malacanang did its own investigation to prove whether the damning allegation of the Blue Ribbon Committee was true. However, in the process, they unearthed documents showing that on June 23, 2016, the Aquino government procured the same PPEs at a price twice expensive as what was purchased by the Duterte administration. Gordon, Drilon Lacson, Pacquiao, and Hontiveroz who played heroes and heroine roles were stunned. Drilon suddenly woke up from his slumber and snarled "you're diverting the issue" at Presidential Spokesperson Harry Roque who revealed what the Palace discovered. From the lower chamber came a pipsqueak voice of former Health Secretary, now Iloilo congresswoman Janette Garin, who explained that indeed they bought the PPEs because of the threats of the coronavirus disease 2019 (Covid-19). So there.
The Blue Ribbon Committee hearing became a tragic comedy but Gordon, Drilon, and Lacson had turned themselves from heroes to Three Stooges. Even the Commission on Audit expressed surprise why the (Duterte)government go through a maze of procedures when under the emergency power granted under Bayanihan 1 Act the government can proceed to buy what are necessary given the pandemic. (Blame that to the incompetence of Sec Francisco Duque.) But the Three Stooges refused to give up. The issued a Warrant of Arrest to Michael Yang, the owner of Pharmally Pharmaceuticals, for not appearing on the BRC hearing. The lawyer of Yang moreover, in a press statement, said that the summon was never served to add that his client will show up next meeting.
Drilon, Gordon, and Lacson are up to another dirty trick. They wanted to associate Yang with President Duterte by showing a picture where the two were together. But wasn't it that Duterte was quoted before that Yang, who is a Filipino-Chinese businessman is from Davao City and was his former economic adviser early on when they were inviting Chinese investors to the Philippines? I don't know whether that had become a crime otherwise Gordon who was seen shaking hands with a drug lord becomes a suspect too.
If Gordon is up to his job and fair, he should summon former Health Sec. Janette Garin to the Senate investigation. Since Yang is attending the next Senate hearing, assuming there will be any after all the booboos, maybe he should be asked how he was able to supply the government with PPEs at half the price than before when there was no pandemic.
Drilon is smarting. He now asks another question whether Yang paid taxes on all those government transactions he had.
And so goes the narrative. I do not believe that Drilon, Gordon, and Lacson were co-authors and scriptwriters of "Ang Probinsyano". It's just brazen and shameless politicking.
About the Columnist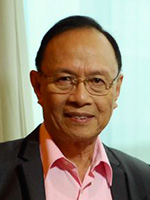 Mr. Jun Ledesma is a community journalist who writes from Davao City and comments from the perspective of a Mindanaoan.