By Ruth Abbey Gita-Carlos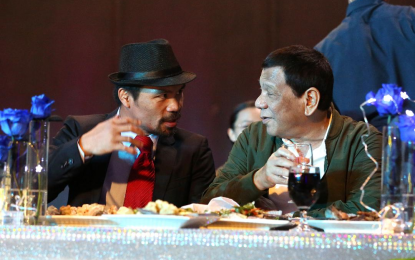 President Rodrigo Roa Duterte and Senator Manny Pacquiao (File photo)
MANILA (Philippines News Agency)– President Rodrigo Duterte has met with Senator Emmanuel "Manny" Pacquiao to revive their strained "friendship," Malacañang said Friday.
Presidential Spokesperson Harry Roque confirmed that Duterte had a "short and cordial" meeting with Pacquiao on Tuesday night.
The meeting was held upon the request of Pacquiao, Roque said.
"We confirm that Senator Emmanuel 'Manny' Pacquiao met President Rodrigo Roa Duterte last night, November 9. It was a short and cordial meeting requested by the camp of the good Senator," Roque said in a press statement.
Pacquiao, who was installed as the president of the ruling party Partido Demokratiko Pilipinas-Lakas ng Bayan (PDP-Laban) in 2020, was once considered an ally of Duterte.
However, Duterte and Pacquiao engaged in a verbal tussle in July this year after the senator claimed that corruption exacerbates under the Chief Executive's watch.
The rift between the two also led to the creation of a new faction of the PDP-Laban led by Energy Secretary Alfonso Cusi.
Senator Christopher Lawrence Go, who is running for vice president under Cusi-led PDP-Laban, also attended the meeting between Duterte and Pacquiao.
Pacquiao, who is still regarded as the president of the other faction of the ruling party, is running for president in the May 9, 2022 national elections.
Roque said Duterte and Pacquiao did not talk about politics.
"There was no talk of politics but a renewal of friendship," he said.
Roque added that the meeting between the two officials merely focused on several matters that would benefit the Filipino people.
"It was a meeting between two national leaders from Mindanao who discussed certain matters related to people's concern in their area, specifically in the infrastructure and power industry," he said. (PNA)