By Ferdinand Patinio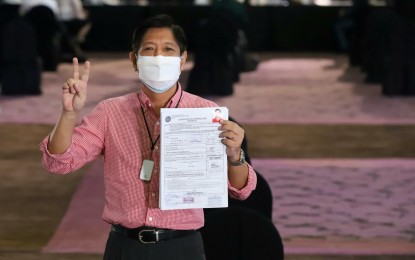 Presidential aspirant former senator Ferdinand "Bongbong" Marcos Jr. (File photo)
MANILA – The preliminary conference meeting of the first petition to cancel the certificate of candidacy of presidential aspirant former senator Ferdinand "Bongbong" Marcos Jr., filed before the Commission on Elections (Comelec) is not open to the public.
Comelec spokesperson James Jimenez said Thursday though the event would be an online meeting, it would not be accessible to the public or the media.
"I spoke to the Clerk of the Commission, the pre-con is not open to the public. It's a virtual meeting but it's not accessible to the public or media," he said in a press conference on Thursday.
After the Friday meeting, both parties have three days to submit their memoranda and then the case will be submitted for resolution, Jimenez said.
Early this month, a petition was filed before the Comelec seeking to cancel Marcos' certificate of candidacy. The petitioners claimed that Marcos' COC contained multiple false material representations.
In response, Marcos' spokesperson, lawyer Victor Rodriguez, said they would address "this predictable nuisance petition" at the proper time and forum.
Jimenez said the Marcos camp has filed a counter case against another petition filed by Tiburcio Marcos seeking to declare the former senator as a nuisance candidate. He did not elaborate.
"For Tiburcio's case, I think the principal ground raised was identity. That something to that effect that BBM is not BBM, is not the real guy," he added.
Tiburcio claimed that the real Marcos Jr. allegedly died and the one who filed the COC was an alleged impostor.
The case has been raffled to the Comelec Second Division. (PNA)