By Priam Nepomuceno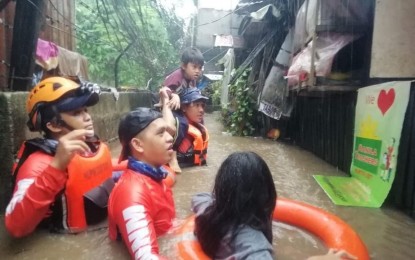 (Photo courtesy of Coast Guard District Northern Mindanao)
MANILA – Typhoon Odette has so far affected some 11,859 families as it pummeled most of the Visayas and Mindanao, the National Disaster Risk Reduction and Management Council (NDRRMC) said on Friday.
In its 8 a.m. update, the agency said these families, which are equivalent to 41,434 persons, are from 249 villages in Bicol, Western Visayas, Eastern Visayas, Northern Mindanao, and the Caraga region.
Some 192 evacuation centers are currently assisting 4,989 families while the rest are taking shelter with their friends and relatives.
The NDRRMC is currently validating reports of one death and two injured.
Meanwhile, 73 seaports are non-operational or have suspended trips due to bad weather.
The number of stranded passengers has reached 4,503 along with 2,245 rolling cargoes, 75 ships, and three motorbancas in Calabarzon, Mimaropa, Bicol, Western Visayas, Eastern Visayas, the Zamboanga Peninsula and the Caraga region.
The NDRRMC also reported that 83,026 families or 332,855 individuals were preemptively evacuated.
These include 3,162 families in Western Visayas; 867 families in Central Visayas; 58,109 families in Eastern Visayas and 20,888 families in Caraga. (PNA)