By Alexander Lopez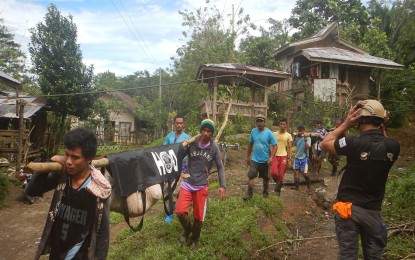 RETRIEVAL. Rescue team members carry one of the four bodies of landslide victims retrieved in Purok 3, Barangay Kioya, Sibagat, Agusan del Sur on Friday (Dec. 17, 2021). They were part of an 11-member family on its way to an evacuation center at the height of Typhoon Odette when disaster struck Thursday (December 16). (Photo courtesy of Sibagat Municipal Information Office)
BUTUAN CITY – Four persons were reported dead while seven others are missing as a landslide hit one of the villages in Sibagat, Agusan del Sur at the height of the onslaught of Typhoon Odette Thursday.
Rolando Buag, head of the town's Emergency Operations Center, said in an interview Friday that a family, composed of 11 persons, was on its way to an evacuation center when hit by a landslide in Purok 3 in Barangay Kioya.
"At the height of the heavy rains last Thursday, the family decided to proceed to an evacuation center but along the way was hit by a landslide," Buag said.
The father, whom Buag did not identify, was spared as he stayed behind to do some fixing after a toppled tree hit a portion of their house.
Upon his arrival at the evacuation center in the afternoon, he was puzzled why his family members were not there.
Search and rescue operations retrieved four bodies and an amputated foot Friday, Buag said.
They were identified as Pirelyn Sanico, 23; Proylan Cabalquinto, 21; Pejie Cabalquinto, 15; and Arvie Cabalquinto, 12, while the foot belonged to Jaypol Sanico, 28.
Retrieval operations are ongoing as of posting time.
Buag also reported that more than 400 families from 20 villages were directly affected by "Odette" on Thursday.
As of 11 a.m. Saturday, the center of the eye of the typhoon was 380 kilometers (km) west-northwest of Puerto Princesa City, Palawan, which is under Signal No. 1, and 155 km east of Pag-asa Island in Kalayaan that is under Signal No. 3. (PNA)